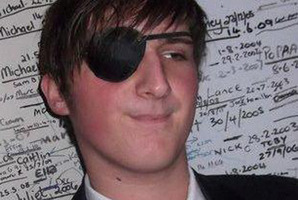 Despite nine operations in one year, doctors could not save Whangarei teenager Jared McGiven's right eye.
An optometrist who treated Mr McGiven has been suspended for failing to promptly refer the Parua Bay teenager for specialist treatment that could have saved his eye.
Today, Mr McGiven will have an artificial eye inserted by an oculist at the New Zealand Artificial Eye Service in Takapuna.
Yesterday, the Health and Practitioners' Disciplinary Tribunal suspended a former Northland optometrist - who now lives overseas - from practising for six months and ordered that he not work as a sole practitioner for three years after resuming his job.
The optometrist has name suppression for 14 days, the period within which he can appeal the decision.
Mr McGiven first visited the optometrist on December 9, 2010 when he was 16.
But the healthcare professional did not know what the abnormality was and did not record the condition, a retinal detachment, as a diagnosis in his clinical notes.
The teenager attended a second appointment on December 16 when more photographs of his eye were taken. He was advised to return in three months for more photos.
It was not until February 7, 2011, or about eight weeks after the first consultation, that the optometrist faxed a referral letter to ophthalmologist Dr Brian Kent-Smith.
The referral letter did not mention the first consultation on December 9 nor were photos taken that day sent to Dr Kent-Smith who promptly diagnosed a right retinal detachment and arranged for surgery.
But by then it was too late, and Mr McGiven's eye had to be removed.
Dr Kent-Smith and another ophthalmologist, Dr Philip Polkinghorne, both agreed the optometrist should have referred the teen immediately.
However, the Northland optometrist said it was a genuine mistake due to misfiling of records.
He maintained that stance during yesterday's tribunal hearing, although he accepted his failure to identify the detached retina and to promptly refer Mr McGiven to an ophthalmologist.
Tribunal deputy chairwoman Kate Devonport said that although charges of malpractice and negligence against the optometrist had been established, he would face suspension instead of having to pay a fine.
The optometrist has also been ordered to pay $10,000 in costs to the tribunal.APN