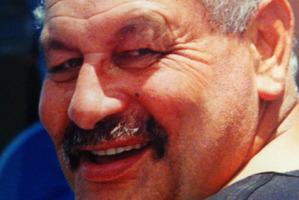 A criminologist says the vehicle the police are searching for in the hunt for George Taiaroa's killer has probably been destroyed and is unlikely to be found.
Greg Newbold, of Canterbury University, said Mr Taiaroa's murder had the hallmarks of a random shooting but the fact that a vehicle of interest in the police inquiry had not been found lent support to the idea that it was "planned and organised".
The 67-year-old father of four was shot and killed while directing traffic on Tram Rd, Kinleith last Tuesday afternoon.
Police are now searching for a blue Jeep Cherokee seen being driven quickly from the scene.
"If they intended to use that vehicle to kill Taiaroa they must have had some strong reason for doing that and they would have had to get rid of that vehicle because they'll never be able to drive the damn thing again," Dr Newbold said.
"It is unlikely the vehicle will be on the road now; I would think if it was an organised killing the vehicle has probably been chopped up."
Dr Newbold said because police said the incident was not random, it suggested they had established a motive "and if they have a motive they may have a suspect or a list of suspects".
"It could be anything, could be money, could be family or it could be trial-related but you really can't speculate.
"You just wonder what a 67-year-old could do to piss someone off to want to kill them."
Dr Newbold said police were generally cautious in releasing information about what they knew during their investigations as they did not want suspects to know where their lines of inquiry were heading.
"The other reason is when things are highly speculative is because everything the police do will be scrutinised in court."
Meanwhile, police have dispelled weekend media reports that a blue ute stolen from a reality TV contestant may have been connected to Mr Taiaroa's death, or that he was targeted because of a 10-year-old vendetta for a testimony he gave that helped put someone in jail.
"Unfortunately that's incorrect, and that rumour doesn't really help us or our inquiry," Mr Loper told Radio New Zealand.
Police are calling for commercial trucks that have cameras mounted on their cabs and locals with security cameras on their properties for any information or video footage from around the time of the shooting.
They believe motorists who passed over the bridge on Tram Rd between 2.30pm and the fatal shooting on March 19 may have information that is important to the inquiry.
"The information those drivers can provide could be crucial in piecing together events leading up the shooting," Mr Loper said.
"They may not think they have anything useful to offer, but the slightest snippet of information might be invaluable to the investigation; particularly in terms of the people and vehicles they saw as they passed through."
Mr Loper said it was unclear how many vehicles travelled through during those 30 minutes but police were aware of a two-tone green vehicle that came nose to nose with a tractor on the bridge and had to reverse after a traffic control miscommunication.
Police also want to speak to anyone who stopped at the scene or passed by after the shooting and hasn't yet spoken to police.