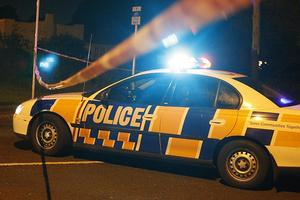 Neighbours of an out-of-control Auckland party that was gatecrashed by up to 200 people say it is a recurring problem at the house and they fear for their safety.
Up to 100 youths who attacked police with bottles and fence palings were among gatecrashers of the birthday party that got out of hand in Manurewa on Sunday morning.
Six people were arrested as 40 police officers, two police dogs and the police Eagle helicopter tried to control the street brawl about 2.30am.
Police received 25 separate complaints from residents in the area.
A female living at the address declined to speak about the party, saying "we just want to forget about it''.
But neighbours said the incident was not an isolated one - there had been several previous parties at the address, all of which had got out of control.
"They've had five parties and every time it's ended up with the riot squad,'' said one man who did not want to be named.
He was also concerned about the violence of the party-goers, saying gang members were involved.
The man said invites to the party were posted on Facebook last week.
Another neighbour said she was unable to sleep the whole night because of she feared for her safety and that of her children.
"They came onto my property, broke my fence, they were doing funny things behind my fence - maybe sex.''
It was one of a number of out-of-control parties that had been held at the house, she said.
"It's very bad. We're very frightened.''
However another neighbour, Sandra Bailey, said there were balloons on the home's letterbox to signal it was hosting a party and about six people were at the gate trying to manage the crowd that started arriving early on Saturday night.
She said those who lived at the house were "what you would class perfect neighbours''.
"Honestly, they were actually quite responsible,'' Ms Bailey said.
"It looked as if they were trying their hardest [to stop gatecrashers]. We could actually hear them [trying to turn people away]. We could hear them saying 'you're not on the list, go away'.
"They hadn't caused any problems at all, the noise wasn't too bad, until sort of 2.30 when they all left en masse.''
At that time police received 25 separate complaints about up to 100 youths fighting in the streets around Russell Rd.
"You could hear yelling, swearing and the odd bang. It just didn't sound good,'' Ms Bailey said.
It took police more than half an hour to bring the crowd under control.
Ms Bailey said police were "brilliant'' in keeping the street safe.
She said there was a neighbourhood police unit that had recently been implemented and in the 28 years she had lived on Russell Rd she had "never felt safer'', including during Saturday night's incident.
The six people arrested were released with official warnings.
- APNZ