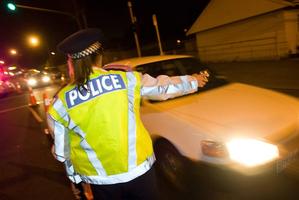 A high-profile criminal lawyer, convicted for drink-driving three times, now spends $800 a month in taxis so he can go to the pub every night, a tribunal heard today.
Douglas Taffs, 59, is undergoing therapy and counselling but denies having a booze problem.
He now enjoys drinking just "three or four" 7oz glasses of beer every night after work while socialising with three good mates, he says.
The Canterbury Westland Standards Committee today asked for the Westport-based defence counsel to be suspended from practising law for two years, after recording his third conviction for driving with excess breath alcohol.
They say he has brought the profession into disrepute.
Taffs, who has historic excess breath-alcohol convictions from 1981 and 1993, was caught again in March 2011 when he put coins into his mouth to try to contaminate the breath-test result.
He also unplugged the power cord from the evidential breath-testing machine in a police station and placed the cord in the drawer of a filing cabinet.
The ploy did not work, and he was convicted on his third drink-driving charge, as well as one of obstructing a police officer. He was fined $4000 and disqualified for 13 months.
At the time, Taffs accepted acting like a "complete prat", and admitted he'd had a "controversial career" in about 40 years of practising law.
He avoided a fourth drink-driving conviction last year when a judge ruled that police had unfairly obtained evidence against Taffs by following his car on to his property in August, 2011.
Two constables breath-tested him at his home, north of Westport, believing he might have driven from the nearby Pig and Whistle Hotel.
A Lawyers and Conveyancers Disciplinary Tribunal penalty hearing sat in Christchurch today to consider whether Taffs should be allowed to continue practising law.
Taffs, who practised in Christchurch for a number of years, appeared at the tribunal today to argue he should be allowed to keep practising.
He admits that what he did was serious, but claimed he didn't have a drinking problem.
On the night he was caught, however, he said he had drunk more than he ever usually would, having gone to the pub after playing golf.
Taffs is involved in seven upcoming trials, and his legal representative Paul McMenamin said a ban would throw the West Coast's justice system into chaos.
Even though he has his driver's licence back, he says he now spends $700 to $800 a month on taxis to avoid getting behind the wheel.
When Judge Dale Clarkson, the tribunal chairwoman, asked if he thought that was excessive, he replied it was necessary to continue socialising with his "very good, close friends" whose company meant so much to him.
Margot Perpick, the lawyer representing the Canterbury Westland Standards Committee, said it was Taff's attempts at avoiding detection that caused the professional body the most concern.
The standard committee believed a two-year suspension was an appropriate penalty.
Mr McMenamin accepted his client's conduct on the night had been "bizarre" and "serious".
But he believed it amounted to a "moment of madness", and did not show habitual or repeated behaviour, or that Taffs was contemptuous of the law.
"There is a lot at stake for Mr Taffs personally, for the administration of law on the West Coast, for his clients, his family, for everyone," the lawyer argued.
The offending was not sparked by alcohol, but by other underlying issues, Mr McMenamin said.
The tribunal reserved its decision.
- APNZ