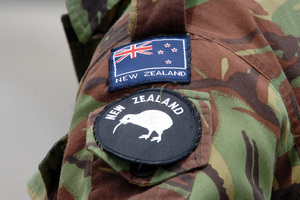 An army lieutenant who served in Afghanistan has been reprimanded and ordered to pay a fellow soldier $1000 after a court martial at Linton Military Camp today.
Lieutenant Joshua Saua, 22, pleaded guilty to a charge of injuring with reckless disregard to the safety of others before Judge Anne Gaskell and a panel of military personnel.
He received a severe reprimand, was ordered to pay a fine of $1000 payable to his victim and was given a stay of seniority for 16 months.
The hearing was told Lt Saua was involved in an incident in Palmerston North in the early hours of August 5 last year.
Having broken up an altercation between the victim and another soldier, Lt Saua was escorting the victim home. The victim became aggressive, and Lt Saua assaulted him, continuing his attack even after the victim was unconscious.
The victim suffered extensive facial bruising, the hearing was told.
Lt Saua's commanding officer, Major Faraday, described him as an "enthusiastic and professional'' soldier, and believed the incident to be out of character.
Giving evidence this morning, Lt Saua said he had no history of violence before the incident - a yellow card during a rugby game was as bad as it got.
Lt Saua was deployed to Afghanistan between July 2011 and April 2012.
Asked whether he had seen action, he told the court his first patrol was attacked with a rocket-propelled grenade and described his involvement with the identification and arrest of a "person of interest'', in conjunction with local authorities.
The hearing was told that following a restorative justice session, and given Lt Saua's contrition over the incident, the victim was more understanding of the incident's circumstances.
Lt Saua is one of three Samoan officers in the New Zealand Army. His family lives in Palmerston North, although his father is a village chief in Samoa.
The court heard Lt Saua has a strong involvement in his native culture; he speaks fluent Samoan, and has previously caught media attention for his extensive pe'a - traditional Samoan tattoos.
Lt Saua expressed his intention to leave the Army, perhaps to study at university, but said he wished to remain a reservist.
Commanding officers at the court martial described Lt Saua as a professional, hardworking soldier and his assault on another officer was out of character.
Judge Gaskell said Lt Saua's early guilty plea and his previous clean record went a long way to reducing any sentence.