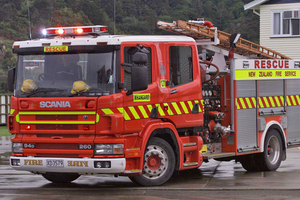 A hoax call from an 8-year-old resulted in 18 members of the Ruakaka Volunteer Fire Brigade being deployed to a false alarm.
The station officer has issued a warning to parents whose children find it amusing to make hoax calls to emergency services, after they had been told a person was also trapped in the building.
Ruakaka Fire Brigade station officer Jeff D'Ath told the Advocate that two fire units and the team of 18 was deployed to Marsden Point Road after emergency services received a call from someone reporting a fire and an injured person trapped in a house.
"We prepared for a big job," he said.
"We deployed the team, thinking we had a person trapped in a burning house."
He said the community was still tender after the tragic death of 19-year-old Lesley Anita Wehi Jack, who died after her two-bedroom home ignited in a gas explosion on February 11.
The young woman died the following day at Middlemore Hospital.
"We thought we had another serious fire on our hands," he said.
But when they got to the house, they discovered there was no fire and no injured people trapped.
They did discover, however, that the call had been made by an 8-year-old child at the premises.
Mr D'Ath said that if a real call had come through while they were attending the hoax callout, it could have proven serious, even fatal.
"We're glad that nobody was put in danger but if someone else had needed our assistance at another fire while we were here, it could have been very serious," he said.
The police have since spoken to the family and the child involved.
Mr D'Ath urged parents and guardians to be vigilant and speak to children about the danger of making hoax calls to emergency services.
For more articles from this region, go to Northern Advocate