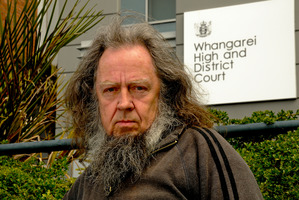 A former diplomat has lost his appeal against a conviction for assaulting the Northland Crown solicitor.
The High Court agreed with the Whangarei District Court's finding that John Colman, 62, deliberately struck Mike Smith on the side of his face outside court.
Colman was found guilty in August last year and ordered to come up for sentence if called upon within six months.
On October 7, 2011, Colman was being escorted out of the court by two security guards and, as Mr Smith entered the court building, a melee ensued in which both men ended up on the ground.
Mr Smith said Colman punched him in the face, but Colman said he merely threw papers at him in frustration and the Crown prosecutor was taken to the ground by one of the security guards as he put Colman in a headlock.
Colman argued at trial that he acted reasonably to prevent a breach of peace but the court found Mr Smith was in no way breaching the peace.
Justice Murray Gilbert said while dismissing the appeal that a breach of peace involved violence or threatened violence and Mr Smith did neither of those.
Colman said he had Asperger's syndrome and as a result he sometimes misinterpreted situations. When he saw Mr Smith coming towards him, he felt threatened, believing that the former was in some way acting in concert with two security officers who were escorting Colman out of the court.
Colman listed 21 grounds of appeal but many of these were repetitive such as that the trial judge was wrong in reaching her factual conclusion that he had deliberately assaulted Mr Smith.
Colman claimed the trial judge was wrong to decline his application to stay the prosecution on the grounds that his rights under the New Zealand Bill of Rights had been breached.
But Justice Gilbert said a delay of 10 months for Colman's case to proceed to trial, alleged failure by police to provide timely disclosures, and that he had not been permitted to contact police witnesses, were not grounds to stay proceedings. He also rejected Colman's argument that the trial judge was wrong to find beyond reasonable doubt that he assaulted Mr Smith.
A day after Justice Gilbert's ruling on March 13, Colman filed an application for recall of ruling, saying he intended to seek leave from the Court of Appeal. He advised that the grounds of appeal would be that Justice Gilbert did not conduct a genuine appeal, cherry-picked issues and ignored those that may have favoured him. Justice Gilbert declined the application, saying Colman's appeal did not raise any new or difficult issue or law.
For more articles from this region, go to Northern Advocate