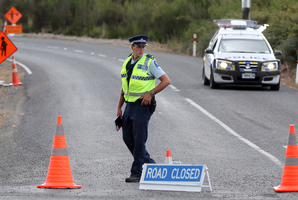 Detectives are investigating cab-mounted cameras in commercial trucks to try to find the person who shot dead George Taiaroa in Aitiamuri last week.
Police said security footage from cameras attached to some trucks that were in the area at the time may hold information that could help identify Mr Taiaroa's murderer.
A team of 30 officers are also still identifying everyone who travelled over the one-lane bridge on Tram Rd, where Mr Taiaroa was killed on Tuesday, including the driver of a "two-tone green vehicle" which came nose-to-nose with a tractor on the bridge and had to reverse due to a miscommunication at traffic control.
"We are keen to speak with that potential witness and any others who crossed the bridge," Detective Inspector Mark Loper said.
Mr Loper this morning appealed for anyone who travelled on the road that afternoon to contact police.
He said detectives were investigating "a number" of potential suspects.
"We get a large number of names and we alibi-inspect with those people and reduce the number until we're left hopefully with the main person involved," Mr Loper told Radio New Zealand.
Mr Loper said police had still not established a motive for the killing, nor had they located a blue Jeep Cherokee believed to be involved in the shooting.
He discounted rumours reported by media at the weekend that a blue ute stolen from a reality TV contestant may have been connected to Mr Taiaroa's death, or that he was targeted because of a 10-year-old vendetta for a testimony he gave that helped put someone in jail.
"Unfortunately that's incorrect, and that rumour doesn't really help us or our inquiry," Mr Loper said.
He said motorists who passed over the bridge between 2.30pm and the time of the fatal shooting, about 30 to 40 minutes later, may have information they don't realise is important to the investigation.
"The information those drivers can provide could be crucial in piecing together events leading up to the shooting," Mr Loper said.
"They may not think they have anything useful to offer, but the slightest snippet of information might be invaluable to the investigation; particularly in terms of the people and vehicles they saw as they passed through."
He said police did not know how many vehicles drove through the area during that 30-minute period, or how many others passed the scene.
As well as investigating possible security footage from trucks that were in the area, police will also speak with nearby rural residents who may have "cameras installed to help protect their properties".
"The vehicle we are seeking will have off-road capability, so just because a camera isn't on the road doesn't mean it won't be useful," Mr Loper said.
"We would encourage everyone in and around Atiamuri to check their cameras."
Anyone with information should call police on 0800 Kingswood (0800 546 479) or Crimestoppers on 0800 555 111.
- APNZ