Philip Richardson says the Church needs to deepen discipleship and build credibility.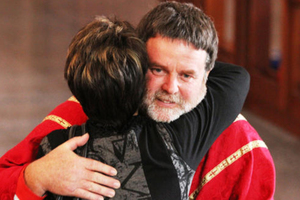 The Bishop of Taranaki has been selected as leader of the country's Anglican community.
The Rt Rev Philip Richardson was confirmed as archbishop-elect in Wellington on Saturday at a meeting of the seven Tikanga Pakeha dioceses.
The Anglican Bishop of Dunedin, the Rt Rev Dr Kelvin Wright, who was involved in the meeting, said yesterday that he was very pleased with the selection.
"He's a very innovative man. He went to Taranaki when the diocese had just formed and he built it up through sheer ingenuity, really.
"He is a very lateral-thinking man, who is very hard-working and has excellent management skills."
Bishop Richardson was warden of Selwyn College at the University of Otago from 1992 to 1999, when he was elected Bishop of Taranaki.
"He was a very popular warden at Selwyn, with staff and students. He made it more disciplined, improved the buildings and brought in a programme for study.
He worked hard on the community of the college and making it a safer place," Dr Wright said.
"He was also instrumental in laying the historic grievances to rest with Maori in the New Plymouth area. He is a quiet, hard-working fellow who really gets things done."
Bishop Richardson, 55 replaces Archbishop David Moxon, who leaves next month to become the chief Anglican representative to the Catholic Church in Rome.
Bishop Richardson, who will become one of three archbishops leading the Anglican Church of Aotearoa New Zealand and Polynesia, was born in Devonport and completed a BA and BTheol at the University of Otago, before being ordained a priest in 1982.
He said that one of his main priorities as archbishop would be helping the Church "deepen its discipleship".
"The second thing we need to do is build credibility."