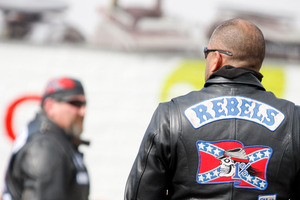 A noticeable gang presence is still frustrating community leaders in the Northland community of Moerewa.
The Far North town rallied last month to stand up against anti-social behaviour.
A number of incidents led to the meeting, including a shoot out and a stabbing.
Community Action Group leader Peeni Henare says they recently held a large festival, where the less desirable side of the town was everywhere to be seen.
"Gang members came and made their presence felt, just by being around, you know.
"The fact that they're around, flashing their gang patches and their big Harley Davidsons and all the rest of it, still has that allure to our kids."
Peeni Henare says they had set up a meeting with the three gang leaders in the town, but it had to be delayed as two were arrested.