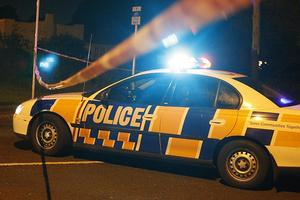 Up to 100 youths who attacked police with bottles and fence palings were gatecrashers of a birthday party that got out of hand in south Auckland early this morning, police say.
Six people were arrested as 40 officers from across the Counties Manukau district, two police dogs and the Eagle helicopter tried to control the Manurewa street brawl about 2.30am.
District shift supervisor Senior Sergeant Duncan Hall said it was believed those at the house where the party originated hadn't intended it to grow as large as it did.
Mr Hall said up to 200 people were reported to have gatecrashed the Russell Rd party before it spilled into the street, sparking 25 separate police complaints from residents in the area.
When police arrived there were reportedly up to 100 youths fighting in the street, a "large number" of which attacked officers trying to settle the crowd.
"It is a concern that people try and take on police rather than doing the responsible thing," Mr Hall said.
He said none of the officers or brawlers involved were injured.
An ambulance had been put on standby at a safety point near Russell Rd but was later called off.
Mr Hall said he had spoken with the residents of the home where the party started and "one of the girls ... was most apologetic about the incident getting out of control last night".
He said there was at least one parent present at the home when the party started and it soon escalated to be much larger than they had expected.
Mr Hall said the large crowd most likely resulted from a public invitation to the party, similar to unregulated Facebook events in the past that have led to parties getting out of control.
"Parents and also the occupiers of the homes that are being used for these parties need to be aware of the dangers of sending out unspecified invites," Mr Hall said.
"[When] blanket invites through text messages or social media sites [are sent out], these sort of things spread very quickly.
"A lot more people than they desire or want can actually turn up at the address."
The six people arrested were released with formal warnings, Mr Hall said.
- APNZ
- APNZ