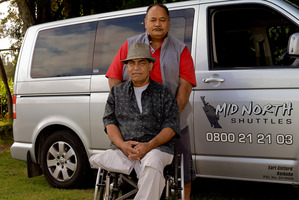 A taxi driver had to jump behind the wheel of an ambulance and drive it to hospital because the sole paramedic was working to save the life of a heart attack victim in the back.
The case in Northland has sparked fresh concerns over the frequency of single-crewing in rural areas, with officials confirming civilians are being forced to drive in emergencies. Opotiki's mayor, the spokesman for 26 rural councils, describes the situation as "Mickey Mouse" and says lives are at risk.
In the most recent case, Sam Kuha, who has spent 20 years in a wheelchair, was travelling by taxi from Kaikohe to the Limb Centre in Auckland to get fitted for a new leg when he felt a searing pain in his chest.
Pulling over on a rural stretch of road near Moerewa, his panicked taxi driver phoned for an ambulance.
As the symptoms intensified, Kuha was alarmed when just one ambulance officer arrived to assist.
"It put me under more stress. I was thinking how is this fulla going to drive me all the way to Kawakawa Hospital like this?
"He did not want to leave my side and he is probably the reason I'm alive," said Kuha.
Kuha's taxi driver flagged down a minibus, from the same company, Mid North Shuttles, who dropped off his three passengers and quickly returned to lend a hand.
Minibus driver Dan Korewha, who knew all of them, was then asked if he could drive the ambulance.
"I said, 'yes of course', especially for Sam. If he'd been left in the back by himself the situation could have been much worse."
A former St John volunteer, Korewha said he feared for the safety of ambulance officers working alone - especially women sent to remote jobs by themselves at night.
The St John annual report for 2011/12 shows single crew callouts were up on the previous year, by more than 4000 incidents. One in nine emergency calls was attended by ambulance officers working alone - that's 43,791 out of the 387,472 calls, or 11.3 per cent.
When urban calls are discounted, that figure jumps to almost one in three, about 29 per cent.
St John receives an average of 1000 emergency 111 calls per day, a rate that is growing 3.5 per cent a year.
Operations director Michael Brooke conceded there were times lone ambulance officers were forced to find someone else to take the wheel, but statistics were not kept. "It's not ideal, but it's still a better option than not going anywhere."
In the wake of the Northland incident though, First Union's national ambulance sector coordinator, Neil Chapman, is calling for far greater scrutiny of what is happening in rural areas.
He wants improved data on how often third-party driving occurs and fears different standards are emerging for urban and rural locations.
"It must be hard dealing with a life and death situation, while at the same time scrambling to find someone who can jump in and drive the ambulance," said Chapman. "There will be occasions when things go horribly wrong."
He said the dependency on volunteers reflected the archaic funding structures for ambulance services in this country. "You wouldn't rely on volunteer policing."
Opotiki mayor John Forbes said it appeared "double standards" were developing for rural areas.
"I came across a serious car crash at Piarere in the Waikato where one person was dead and several others were scattered on the ground - at least two were critical," he said.
"When the ambulance arrived this old guy hopped out with a bad leg and limped around the accident site, radioed through with an update then tended to the most critical. One elderly guy at an accident like that just didn't cut it. It was a relief when the fire service showed up."
Rural mayors would band together to get action. "There should be better services in rural areas because we are much more at risk, further away from accident and emergency, and our occupations are far more dangerous."
Northland St John Ambulance district operations manager Wally Mitchell said they worked hard to train volunteers but up to 50 per cent of callouts from some stations were single crewed.
"Theoretically, nobody is supposed to drive unless they've been through an ambulance driving course. However, in emergency situations sometimes a third party is asked to drive."
In Sam Kuha's case, Mitchell insisted the single crewed ambulance didn't affect the outcome.
After being airlifted from Kawakawa Hospital, Kuha was receiving emergency treatment at Auckland Hospital within about an hour and a half of the onset of the attack.
"We should be celebrating the ingenuity of these teams when they find solutions in those situations.
"In regards to Mr Korewha, I think the guy's a hero. He should be applauded for his willingness to help," he said.
Health Minister Tony Ryall would not answer questions about civilians driving ambulances, but said funding had gone up by more than $30 million over the past four years, and 100 new paramedics had been added under National.
The ministry, ACC and district health boards contributed most of St John's costs, with donations, revenue from commercial activities and income from ambulance part charges leaving a $14.9 million shortfall for the year to June 2012.