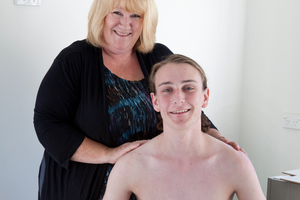 A mother diagnosed her teenage son's rare medical condition by watching a British episode of TV2's Embarrassing Bodies.
Cambridge midwife Nicky Helleur was surfing through channels a year ago when she saw someone being diagnosed with pectus excavatum, and realised her son Louis had the same dent in his chest. "I got so excited I called him into the lounge and said, 'Take your shirt off'," Helleur said.
"(The dent) had always sort of been there. Until we saw it on telly, we had no idea what it was, and that something could be done to surgically correct it."
Sixteen-year-old Louis said once they knew what his "cereal bowl" was, his mother researched options for reconstructive surgery.
"I got a whole lot of tests done and found out I only have 80 per cent of the lung function I should have," Louis said. "Mum found Dr Zachary Moaveni, so we went and saw him."
Louis underwent a six-hour surgery three weeks ago at Middlemore Hospital under general anaesthetic.
"The surgery actually involves a 6cm incision, just below the nipple line," Helleur said. "They basically spent the time stripping out all the abnormal cartilage growth, bringing the ribs and sternum back up to the position they're supposed to be in, and putting a metal plate in to hold it in place. It's going to take two months for Louis' cartilage to fully grow back."
Louis said he was almost back to normal after lying around in bed for three days "dopey as". "It was kind of like my sternum floating with a metal thing attached to my ribs somehow, but you could see my heart beating, which was freaky."
Plastic and reconstructive surgeon Dr Zac Moaveni said there were few treatment options available for the condition in New Zealand.
"It does, however, have a significant impact on young people and it would be very helpful to have more knowledge and awareness of it out there," he said
Embarrassing Bodies editor Sarah Trigg told the Herald on Sunday many viewers had diagnosed conditions from watching the show, but it was impossible to determine numbers as not everyone wrote in.
"The sole aim of the series (is) for people to become more aware of their bodies, what conditions are, how they affect us and how they can be treated," she said.
Helleur said she was grateful for the chance to make a "channel-surfing diagnosis". "Watch more TV is all I can say."

What is it?
Pectus excavatum, known as "funnel chest", is a deformity where several ribs and the sternum grow abnormally, giving a dent-like appearance.
It affects about one in 1,000 children. Boys are five times more likely to have it than girls.