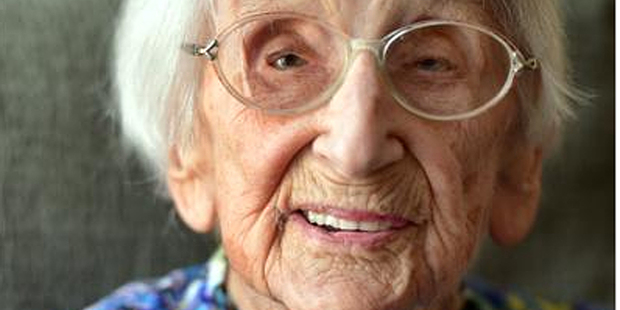 Despite turning 110 today, Maudie Wilson insists she is nothing out of the ordinary.
''I don't want any fuss. I'm just an ordinary person,'' she said this week. Mrs Wilson is believed to be the oldest person in New Zealand.
She will celebrate today with an afternoon tea attended by family, friends, and fellow residents at Vickery Court, Invercargill, where she has lived for about two years.
Among family gathered are her three children, Fay Frazer and Lyndsay Wilson, both of Dunedin, and Frances Tait, of Invercargill.
Last month, Mrs Wilson broke her leg, requiring the insertion of a metal plate, two years after breaking the other leg.
Mrs Tait said although her mother was frail, she had picked up remarkably well since her operation and was able to walk short distances, with the assistance of a walking frame.
A private person, "she wouldn't have anything in the paper if she had her way".
However, she was a great conversationalist and still had a sense of humour. She enjoyed talking to other residents and her many visitors.
Son-in-law Alastair Tait, 77, said he was a bit surprised there had not been more "hoo-ha" about her "incredible" birthday.
"It just seems unreal that she's lived so long."
His own mother died just weeks before his wedding, and Mrs Wilson had fulfilled that role for him through 56 years of marriage.
A peaceful and placid person, she nonetheless spoke up when she felt like it.
"She mostly took my side if there was any disagreement. She was my supporter," he joked.
Despite being genuinely averse to the attention her advanced age brought, she surprised everyone at her birthday last year by giving a speech, Mr Tait said.
"She sprang to her feet and made a magnificent speech."
Mrs Wilson was a "tough cookie" who kept fighting back, despite setbacks such as the broken legs, he said.
Mrs Wilson (nee McRobie) was born in Invercargill on March 23, 1903.
She met her future husband, Bill, at Sunday school when they were about 10. They married in 1929 and operated grocery stores in Hyde, Riverton and Clyde.
Her husband died in 1992. Mrs Wilson lived alone in Clyde until she was slowed by her first broken leg.
For the past couple of years, she has been part of the New England centenarian study run by Boston University School of Medicine.
Researchers were in touch on a regular basis, and had requested Mrs Wilson's family tree to study her ancestors. They were trying to establish the basis for a long life, and the research included taking blood tests.
Mrs Tait believed her mother's longevity was due to a stress-free life and contented outlook.
"She and Dad were a great couple. I don't remember Mum really growling at us," Mrs Tait said.
Her mother was well cared for in Invercargill, and was happy with her surroundings.
"[Vickery Court staff] are quite excited at having what they consider the oldest person in New Zealand in their care."