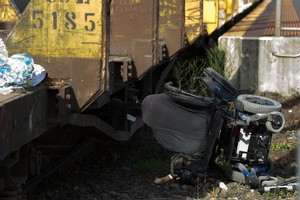 The Government's transport safety regulator has finally decided to investigate the train accident that almost killed a young woman in a wheelchair on an Auckland level crossing.
The NZ Transport Agency, the safety regulator for rail operators under the Railways Act, initially refused to investigate the February 25 accident in which the young woman's wheelchair was caught in the uneven surface of a Morningside crossing which KiwiRail chief executive Jim Quinn admitted this week was "not in the shape that we would like to require".
Spokesman Andy Knackstedt said this week that Morningside Drive was a local road so it was Auckland Transport's responsibility.
The young woman's mother, who was referred to the NZ Transport Agency by the Government's health and safety inspectors, said she was "shunted by NZTA to the TAIC [Transport Accident Investigation Commission] and back".
But Mr Knackstedt said late yesterday that NZTA "decided this week to undertake a wider review of the responses and interactions of all of the parties involved in the response to the Morningside accident, in order to ensure that all relevant issues are adequately addressed".
He said decisions on the scope of the review, and who would conduct it, could be made next week.
"As the safety regulator for rail operators, the NZTA will ensure that KiwiRail conducts a full internal investigation into the Morningside level crossing accident, which will include a review of the maintenance, standards and inspection regime for level crossings, with a specific focus on the risks at level crossings for users of wheelchairs or mobility devices.
"The Railways Act 2005 imposes a number of obligations on rail licence holders, including that of investigating and reporting to NZTA any accidents and incidents that have occurred. The NZTA reports all accidents to TAIC, who can decide whether further investigation [by TAIC] is warranted or not."
Wellington lawyer John Miller, who is advising the victim's family, said NZTA should have accepted responsibility in the first place.
"You can see that people will be trying to duck and dive, as bureaucrats do, trying to shift responsibility on to someone else," he said.
"Finally common sense has prevailed and they have taken the responsibility which I think, as the safety regulator, they should."
The victim's mother spoke out in the Herald this week, saying that people were "culpable" for the terrible injuries her daughter suffered.
She has only just started responding to her parents through sign language in the past few days.
Auckland Police spokeswoman Noreen Hegarty said police were also investigating the accident.