Police urge other young people to take lesson from tragedy that killed driver, 17, and her two nephews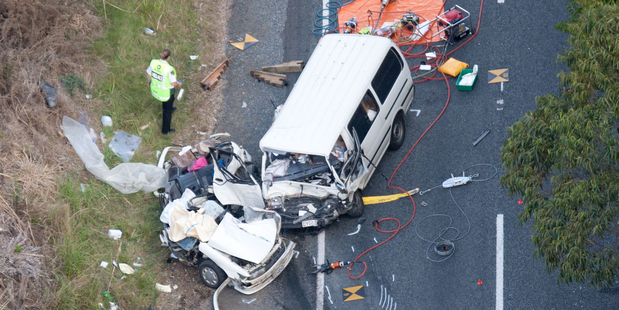 The teenage driver at the centre of a fatal crash that killed her and her sister's two children did not have a driver's licence.
Police are now calling on other young drivers to learn from the tragedy so her life was not lost in vain.
Cheyenne Hemana, 17, was killed instantly when the car she was driving collided with a van on State Highway 16 near Helensville on Thursday afternoon.
It is understood that preliminary crash reports allege Cheyenne was travelleling at speed when she drifted to the side of the road and hit loose shingle. She lost control of the white Mitsubishi Mirage and crossed the centreline into the path of the oncoming southbound van.
The van slammed into the side of the car, spinning it around and causing extensive damage to both vehicles.
Cheyenne and her nephews Moashon Teride Gwelchero Barb Harrison, 11, and 2-year-old Mananui Turangaeira Bryce Clington Tule Emery Harrison, known as Majesty, died at the scene.
Moashon was in the front passenger seat and was wearing his school uniform when he died. Majesty was in the back of the car in his carseat.
Beside him was his sister Messiah Harrison, 6, who survived and was rushed to Starship Hospital with a broken leg.
The driver of the van was also rushed to Auckland City Hospital with serious but survivable injuries.
The Weekend Herald has learned that Cheyenne, who regularly looked after the three children while her sister was at work, has never held a a drivers' licence.
She crashed about 12km from Huapai District School, where Moashon and Messiah attended, and 8km from their home.
Cheyenne's sister and mother were at Messiah's bedside at Starship Hospital yesterday, where she was recovering in a stable condition. The little girl's father was away when the crash happened but was rushing home to be with his partner and family.
Meanwhile, family members gathered at the Parakai home where Cheyenne and the three children lived to start planning the joint tangi.
After meeting with the undertaker to discuss the ceremony, Cheyenne's aunt and uncle Mihi and Tem Morehu travelled to Starship to see Messiah and update the rest of the family.
A devastated Mrs Morehu was reluctant to speak about the crash, but wanted to pay tribute to the three youngsters who died.
"Cheyenne, she was full of life that baby. They all were, the three of them," she said.
"They were very close. Her name is Cheyenne, but her nickname was Shy Girl - she was never shy though, she was completely the opposite. She was loud and proud, that's what I can say about her."
Mrs Morehu's voice broke as she spoke about brothers Moashon and Majesty.
"Both boys were so full of life... but they have no life now," she said.
"They had their own little personalities. Majesty, he was our little bubble. We loved them... we just loved them."
She said the family were struggling to cope with the tragedy, but had much support from their large extended whanau.
Yesterday police were still investigating the cause of the crash, including whether driver inexperience was a factor.
Waitemata District road policing manager Inspector Mark Fergus told the Weekend Herald it was too soon to say whether Cheyenne and the children were wearing seatbelts, whether Majesty's carseat was correctly fitted and what speed the car was travelling at when it crashed.
"We simply don't yet have answers as to why this tragedy occurred. Our Serious Crash Unit attended ,and secured a raft of evidence. We will now be working through to answer many of of the same questions you have posed," Mr Fergus said.
He said police were offering support to all involved in the crash.
"What I do want to say is that this is such an important reminder to our young people, and those who entrust their children to young drivers, that they must be suitably licenced to operate any vehicle.
"Perhaps if one young driver hears this message, and takes steps to become a fully licenced driver, chooses to drive within their licence conditions, or just alters the way they drive, then this young ladies passing will not have been in vain."
Latest New Zealand Transport Ageny statistics show that only 49 per cent of people who sit the test for a restricted licence pass, and only 58 per cent of 17 year olds.