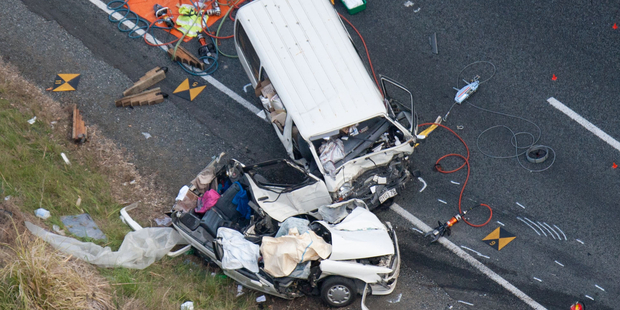 Two children - a baby and an 11-year-old boy - and their young aunt were killed in a crash that also left their 6-year-old sister and a man fighting for their lives.
Cheyenne Hemana, 17, was driving her sister's three children when their white Mitsubishi Mirage and a van collided on State Highway 16 near Helensville, west of Auckland, about 3.40pm.
It is understood Hemana's car may have crossed the centre line.
Hemana, two-year-old baby Mananui, known as Majesty, and Moashon Harrison, 11, died at the scene.
Mananui was in a carseat in the back of the car and Harrison was in the front passenger seat.
The 6-year-old survivor, Messiah, is in hospital with serious injuries.
The driver and sole occupant of the van was also in hospital in a serious but stable condition.
State Highway 16 was closed at the crash site until just after 8pm.
A couple who came through the police cordon just after 7.30pm said they were related to the dead woman and children.
The man, who did not want to be named, said: "It's just sad. The bodies were there ... The white car was just munted. The front of the van was all smashed up. They cut the roof off."
Soon after, a kaumatua and group of Maori arrived to bless the site.
A neighbour told the Herald he heard a helicopter above his house and went to see what was going on. The white car was "split in half".
The dead woman's cousin, in Helensville, paid tribute to her on Facebook, saying: "Just don't know what to say my beautiful cousin, my heart feels so heavy right now. I can't believe it to be true, even though I know it is.
"God must have needed another angel to stand at his side, cos it's the only reason I have to explain this."
Another cousin, who was to have been celebrating his birthday yesterday, wrote: "I'm a bit shattered bout it to ... worst news I've had in ages."
Helensville residents also took to a Facebook page dedicated to the town to discuss the crash.
"Another sad day for the Helensville community. Our thoughts go out to the family and friends," wrote one man.
The crash happened close to Woodhill School, but it was not known whether either of the two older children were pupils.
Woodhill School teacher Yana Toki said last night she was trying to find out who the victims were as she teaches 6-year-old children.
"The teachers were all in a meeting at the time when we heard the fire engines, police and ambulance sirens. We are hoping it was none of our kids. Our school closes about 2.30pm and the crash happened about an hour after that."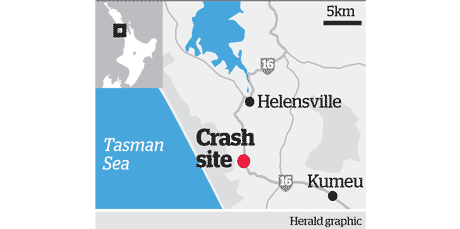 * Read the Herald's live news blog here.