Road worker was in 'good spirits' on the morning he was shot dead by a motorist.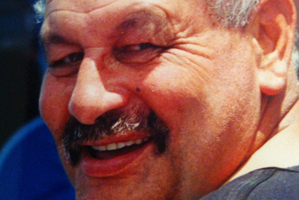 A friend of slain road worker George Taiaroa says he was in good spirits as they enjoyed a chat during morning smoko, a few hours before he was shot dead.
Mr Taiaroa was directing traffic near the Atiamuri bridge project at Kinleith, about 25km south of Tokoroa, when a motorist drove past and shot him before speeding off in a blue four-wheel-drive vehicle, believed to be a Jeep Cherokee, about 3.20pm on Tuesday.
The 67-year-old father of four, whose body was taken yesterday by family members from Hamilton to Levin, died at the scene despite passing motorists' efforts to save his life.
His friend Nick Monk of HEB Construction said he had enjoyed a mid-morning smoko with Mr Taiaroa and a bunch of his mates at Atiamuri on the day of the shooting.
"All the boys were there just having a chin-wag and when I left I crossed over the bridge past where he was working and I caught him on his radio frequency and said, 'Mate, I'll catch you later.'
"He just said, 'Okay, mate, see you next time.' He didn't seem worried about anything."
Mr Monk said there were "a lot of really, really big guys that are really pissed off" among Mr Taiaroa's colleagues. "And some of these guys have connections."
Mr Monk, who delivers machinery to HEB Construction's work sites, said Mr Taiaroa worked for the company for about 14 years. He was well liked and would take his mates diving and fishing on their days off work. He worked as a carpenter and crane driver on various sites but as he got older moved to less taxing jobs.
Mr Monk said the road construction crews were generally tight because jobs together could last for months.
Another of his workmates, who did not want to be named, said: "This guy better bloody hope that the cops catch him first.
"George didn't deserve this, he was a bloody good man, a bloody good fella, he'd always cook these huge bloody steak, eggs and chips meals and I'd say to him, 'Come on, George, I don't want to get as fat as you'."
Meanwhile, there was speculation the shooting could have been in relation to a road worker who reported a motorist speeding through a section of the Atiamuri construction site, where speeds are limited to 30km/h.
But inquiry head Detective Inspector Mark Loper said there would "inevitably be rumour and speculation mixed up with fact".
He said dozens of calls had been made to the investigation team and there was a steady flow of information, particularly around sightings of the vehicle.
"It's very clear that the community are motivated to help us, and the investigation team is equally motivated in following every crumb of information until we find who is responsible for killing Mr Taiaroa."
A post-mortem examination of Mr Taiaroa's body confirmed he was fatally shot but police would not elaborate.
His funeral service will be held at Ngatokowaru marae in Levin tomorrow before he is cremated.
A statement prepared by his family said he was a "gentle giant, a big man with an even bigger heart" with a passion for fishing, diving, rugby and travel.
But his favourite pastime was being with his family.
"He was a humble man who, despite his quiet manner, had a fantastic sense of humour," the statement read.
"For his wife, children and grandchildren, he epitomised love."