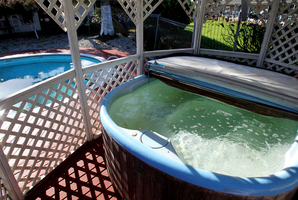 Spa pools could become exempt and snap fines implemented under government proposals to alter or replace the Fencing of Swimming Pools Act.
The Ministry of Business, Innovation and Employment has published a consultation document calling for public submissions on changes to an act that has seen toddler drownings in pools reduced from an average of 10 to three a year nationally since it was introduced in 1987.
Changes up for discussion include: making spa pools exempt from fencing requirements as long as owners use lockable childproof covers; three-yearly fencing maintenance checks to be conducted by pool owners instead of councils; instant fines for safety breaches; the simplification of the means of determining what constitutes a pool and where fencing must be located; the removal of council powers to grant exemptions; provisions to help with safety compliance for portable swimming pools.
"For many the rules have been very frustrating, as people have had to try and satisfy the absolute letter of the law as opposed to focusing on the intent of trying to save lives," Building and Construction Minister Maurice Williamson said.
Beachlands resident Duan Fowell said he didn't necessarily favour the move to make spa pools exempt despite falling foul of the Manukau Council when he installed one in 2009. The pool came with a lockable childproof cover, however, he received a breach notice for failing to have it fenced. Building a fence cost $1300.
He was now happy the spa pool was fenced and had mixed feelings about the proposed law change.
"At the time I thought it was madness because no kids of ours could open the cover. But in retrospect I'm quite happy to have it fenced."
Feedback on the proposals can be submitted until May 10.