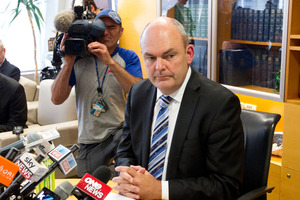 Staff at one secondary school spent nearly 700 hours dealing with Novopay errors and say a $7000 payment won't cover the cost of the extra work.
Lisl Prendergast, principal of Lower Hutt's Sacred Heart College, said two key staff had spent 337.5 hours each working on the problematic payroll system and had costed it out at more than $40,000 of work.
This was equivalent to nearly two months spent working on Novopay for eight hours each working day.
Mrs Prendergast asked her two key payroll administrators, the school's deputy principal and executive officer, to supply her with invoices.
Based on their salaries, they calculated one would be owed $13,203 and the other $27,158 - a total of more than $40,000.
Deputy principal Alison Spencer said that before the new system was rolled out, she would have spent one hour a week on payroll.
This week the Minister responsible for Novopay, Steven Joyce, announced a one-off $6 million compensation payment package for schools, calculated on a formula of $105 per teacher plus a $500 per school payment.
A small school with five teachers would get $1025 and a large school with 120 teachers $13,100. The support package would provide for extra work to the end of June, when it was expected much of the backlog would be cleared by the new Backlog Clearance Unit. Schools were told they would have to put up with Novopay for eight more weeks.
- APNZ