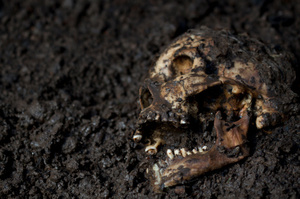 A skull has been uncovered near the Whakatane Hospital construction site.
Bay of Plenty District Health Board general manager of property Jeff Hodson said the skull was exposed by contractors at 11.30am morning.
"During excavation of the Whakatane Hospital car parking area, a human skull was found," Mr Hodson said.
"Following the discovery work stopped immediately and both the police and our director of Regional Maori Health Services, Amohaere Tangitu, were contacted.
"Following further investigation, both the Police Liaison Officer and our cultural advisor Pouroto Ngaropo determined that the skull was likely to be of Maori origin."
Police have said the area is not a crime scene and following further sifting of soil in the immediate area, will hand the site over to the Historic Places Trust as an archaeological site.
An archaeologist is due to arrive on campus this afternoon to assess the area further. The area is known to have been a traditional cultivation site for Ngati Awa. "Police have been very supportive of local custom being observed," Mr Hodson said.
Workers in the area took part in a karakia, and the skull has been removed to Regional Maori Health Services for further determination to allow Regional Maori Health to liaise with Iwi over appropriate burial.
Fletchers car park workers have been stood down for the reminder of the day, and potentially tomorrow, dependent on a decision from the archaeologist.
A blessing of the full construction site, with all construction staff, will take place tomorrow morning with Regional Maori Health Services.
RDP ln
For more articles from this region, go to Rotorua Daily Post