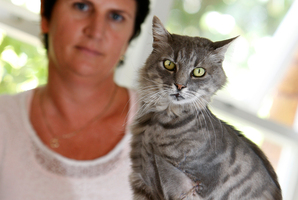 A Whangarei cat owner, who had her cat's leg amputated after it was shot with a pellet gun, fears someone is on a shooting crusade and targeting animals.
Natasha Still's 10-year-old male cat Fred failed to return to their Tui Crescent home in Maunu on March 4 but her daughters found him sitting in some discomfort on the front doorstep a day later.
They rang Ms Still and Fred was taken to the Mill Rd Vet where X-rays revealed he had been shot by a slug gun.
"It had completely shattered its humerus [bone of upper arm] and we were left with three options, including amputation. My two teenage daughters were in tears but I've had to make a decision," she said.
Ms Steel said the best suggestion was for the front left leg to be amputated.
"The vet said he was lucky the pellet didn't go into his chest. The slug pellet is still imbedded inside him.
"It's absolutely appalling and I've learnt lately that two other cats have gone missing and another was found in a gutter.
"I've just been hearing too much lately about slug guns being used and it makes me wonder whether someone's on a crusade targeting these animals," she said.
She was concerned that protected species such as seagulls, were also being targeted, as reported in the Northern Advocate on Saturday.
Fred will have his stitches removed today and Ms Steel said he was not allowed to go outside until he had properly healed.
"Two cats are missing, my cat was shot at and another was found dead in a gutter - it all sounds a little odd to me," she said.
A spokeswoman at Whangarei SPCA confirmed her office was informed about Fred's condition and said police would get involved as the matter involved use of a firearm, possibly in a residential area.
Last week, three seagulls were put down by the Whangarei Native Bird Recovery Centre on Maunu Rd after they were shot at by pellet guns.
* Read the Herald's live news blog here.
For more articles from this region, go to Northern Advocate