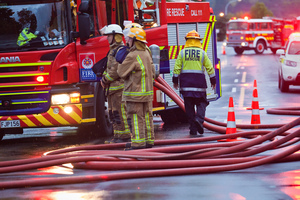 Anger and a desire for vengeance, combined with alcohol, probably led a Mosgiel man to light fires causing $100,000 damage to his former partner's home and belongings last Christmas Day, Judge Stephen O'Driscoll says.
Before the judge in the Dunedin District Court was 38-year-old Andrew Chiles Grant who earlier admitted setting fire to the lounge curtains and a towel in the house he had previously shared with his partner and their two children.
The three victims were absent at the time but were "completely devastated" by the destruction to their home and contents, the judge told Grant. The children had lost many items which were special to them, including various certificates and photograph.
They all felt violated by what had been done and believed the offending was likely to haunt them for the rest of their lives, particularly at Christmas time.
Grant was sentenced to three years' jail for the arson, with a concurrent one-month term on a charge of wilful trespass.
But Judge O'Driscoll said he was not prepared to make a reparation order against the defendant as he was not in a position to pay for the damage within a reasonable time.
Counsel John Westgate stressed it had not been a case where there was any danger to life. Grant had checked there was nobody in the house before lighting the fires. He had not been to prison before but accepted prison was the only appropriate penalty.
Mr Westgate asked for a term starting at four years, with a 25 per cent discount for the guilty plea. He also asked for an allowance for the defendant's problems with depression.
Crown counsel Richard Smith said the starting point should be between five and six years, with a reduction to somewhere between three years and nine months and four years and four months, to take into account any mitigating factors.
Judge O'Driscoll said he was more inclined towards the starting point suggested by Mr Westgate. And he said he would not add anything for Grant's prior offences against the same victim.
But he also decided not to take the defendant's depression into account. He believed it was anger and a desire for vengeance, rather than depression, which led Grant to behave as he did.
Grant had indicated he was not taking his medication at the time and believed that, if he had been, he would not be standing where he was.