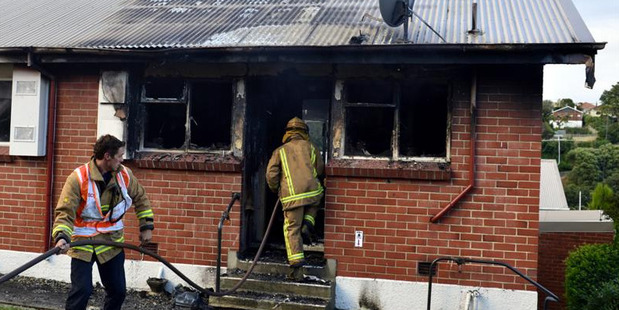 A Mornington woman is being hailed a hero after running into a burning Dunedin City Council flat to pull a 54-year-old man to safety.
The Fire Service was alerted to the blaze on Glen Rd about 6pm yesterday, and at the same time, the woman, who lives across the street, also noticed flames coming out of the building.
She said her first thought was, "I have to get him out" and gave no thought to the fact she was risking her life.
Tears streamed as she recounted the traumatic incident.
"By the time I got to his door, flames were pouring out and by the time I got him out, the glass windows were smashing.
"It just went up so quickly. He tried to go back in to get his cat, but we stopped him.
"By that time, flames were coming out all over the place."
After extricating the man, she began evacuating other residents in the block of four flats as smoke and flames spread to the neighbouring flats.
Other Glen Rd residents at the scene described her actions as nothing short of courageous and heroic.
Lookout Point Fire Brigade Station Officer Ray Adams said the woman had done a great thing, and gave credit to her actions.
"There's an act of bravery going into a burning building like that. But we don't recommend it. It's against all of our protocols.
"Had she been overcome by smoke, she could have been a victim, too.
"Having said that, she's done a wonderful job."
But the woman, who declined to be named, played down her role.
"I'm not a hero. I did it because it's who we are. They're our neighbours. We look after them. We're protective of these guys because they don't have families or any money."
The flat was gutted, and the Fire Service remained at the scene until late last night to dampen down hot spots.
Mr Adams said the cause of the fire was not yet known and fire safety would investigate today.
Another resident said the flats were one-bedroom bedsits for low-income earners, owned by the Dunedin City Council.
He believed the man living in the flat did not have insurance.
"This poor person's got no money, and now he's got nothing."
The man's cat escaped the fire unharmed, but the man himself received minor to moderate injuries, including smoke inhalation.