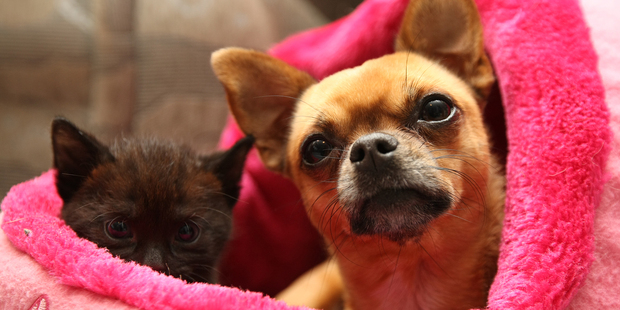 It's the ultimate test of nature versus nurture - will a kitten raised by a dog, bark or meow?
Within a few weeks Trudy Collett will know the answer when her five-year-old Chihuahua Mischka weans her latest baby, a tiny black kitten.
So strong was Mischka's mothering instinct that she was happy to take on any baby, even a kitten.
The five-year-old came into season and began producing milk at the same time as an abandoned two-week-old kitten arrived in the Collett home.
From the moment Mischka saw the kitten, it was love at first sight; for the yet-to-be-named kitten it was the answer to an orphan's prayer - a warm bed and an endless supply of milk.
With two litters of puppies in her past, Mischka was no novice at feeding and caring for a family. The instant the kitten was placed in her basket she made it welcome. Three weeks later they're the perfect mother and son combo.
"Initially we didn't know if the kitten would live or if Mischka would cope with it, but she'd mother anything, her instincts are that strong.
"She's amazing, she does all the kitten's hygiene," Mrs Collett said.
Devoted canine attention has seen the kitten thrive and become a bundle of energy.
That does not deter Mischka who patiently endures having her baby climb over her, chew her ears and try to catch her bulging eyes with his sharp kitten claws.
Dog-kitten adoptions are not unheard of, but with this one, in the oddest of ways, the pairing of the tiny dog and the even tinier kitten curled up in a pink basket, seems almost normal.