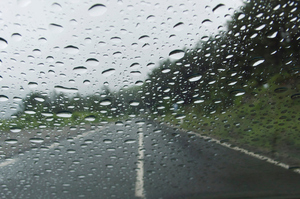 Wellington could run out of water next month if the council's worst-case scenario pans out - and much-needed downpours have only worsened the region's water woes.
Rain in the North Island over last two days has done little to ease the drought, and has caused a further headache for regional authorities in the capital.
Greater Wellington Regional Council said the rain had muddied the Hutt River with debris, making it too dirty to treat the water.
The council activated a consent to take extra water from the river last week, after the storage lake at Te Marua fell to 10 days of reserve supply.
But households in Wellington, Porirua and the Hutt Valley are again drawing on the reservoir's dwindling reserves while the council waits for the Hutt River to become clear enough for its water to be treated again.
A council spokeswoman said that could take a day or so.
The council hopes conservation measures will help keep water use down to about 130 million litres a day, compared with an average of 160 million litres a day at this time of year.
Households are so far heeding the message, with water use down to 125 million litres on Sunday.
But the remaining 1850 million litres of water in reserve could still run out by mid to late April.
Regional council water supply manager Chris Laidlow said that was the worst-case scenario if households did not conserve enough water, rivers dried up faster than anticipated and the dry weather continued for six to eight weeks.
"On the other hand, if things go as we think they will - which is demand staying at low levels, the rivers holding up nicely and maybe a couple of days rain over the next three to four weeks - then we don't see there's an issue."
Mr Laidlow would not go into detail about what measures would be taken in the worst-case scenario.
But he said it would not get so bad that Civil Defence emergency-style water stations or door-to-door water deliveries would be needed.
"Basically the worst-case scenario is that we have sufficient water in the aquifer to provide for the basic needs of the population."
Water supplies are also running low in Gisborne, where the council has taken a novel approach to encouraging residents to use less.
Mayor Meng Foon yesterday announced free parking for motorists with dirty cars, to encourage them to avoid cleaning their vehicles.
The free parking in the central city will be on offer this Wednesday and next, with normal time restrictions in place.
Mr Foon said washing a car with a hose could use up to 300 litres of water.
"My car is staying dirty until we get some decent rain," he said.
"Be proud of your dirty car and wear it like a badge of honour. As long as the windows and lights are clean the rest of the car can be filthy."
Mr Foon said people should also be proud to have dusty decks and bronzed lawns.
"It's green to be brown."
The weekend's rain has been welcomed as a start, but it did not come near the 100mm needed to put an end to the drought.
MetService meteorologist John Law said some 10mm to 40mm had fallen in parts of the northern and central North Island.
But the trough bringing the rain would weaken as it pushed further north, and a cooler southerly flow would break out over the North Island by late today.
"The next high is waiting in the wings and is expected to spread across the entire country by the end of the week, bringing a return to mostly dry weather."
Federated Farmers' president Bruce Wills said the rain would bring some hope and wash some dust off some leaves.
"It won't be enough for good grass growth, but at least it's a start and it'll start softening up the soil."
Primary Industries Minister Nathan Guy said he was feeling more positive about the drought after the rain, but it could be up to two years before the full cost was known.
He called on communities to show resilience.
On Sunday, Finance Minister Bill English said the drought could cost the nation's economy up to $2 billion - double the figure estimated last week.
* Read the Herald's live news blog here.
- APNZ