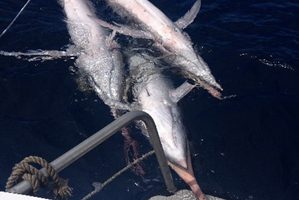 Commercial fishermen are being blamed for dead marlin found floating off the Manukau Harbour.
An Auckland boatie, who did not want to be named, said the marlin had been caught up in the purse seine (trawl net) of a commercial fishing vessel.
The man said his group passed the vessel just as it was lifting its net out of the water.
"We could see two marlin thrashing about.
"On our next pass, the seiner had picked up its net and was moving away. We found four dead and dying marlin - their fins were damaged and their beaks were broken from thrashing about in the net."
He pulled the fish on to his boat last Friday afternoon - one without a beak - and took a photograph which he has posted on a number of websites where it has sparked outrage.
The fisherman pulled one of the marlin on to his boat and radioed for any other fishermen in the area.
Three other boats soon arrived and each took a marlin.
The man said had they not been there, the fish would have gone to waste.
"It's a beautiful fish and it's a shame. I was worried about them going to waste."
Tauranga commercial fisherman Brian Kiddie, who is also a member of the NZ Federation of Commercial Fishermen, said commercial vessels had to release marlin back into the water as commercial fishermen were prohibited from holding on to them.
"Generally, there's no landing of any marlin on a commercial boat. You've got to release it if you've got it on a line ... alive, if it's been attacked by a shark or dead - whatever form - it has to be released."
A spokeswoman for marine advocacy group LegaSea said the photo was "a sad example of commercial bycatch by the purse seine fishing method ... an indiscriminate harvesting method that scoops an entire area and the fish in it".
Marlin
* There are three marlin species in New Zealand waters - striped marlin, blue marlin and black marlin.
* Commercial vessels are prohibited from holding on to marlin, if caught.
* Any marlin caught by a commercial vessel must be released back into the water, dead or alive.