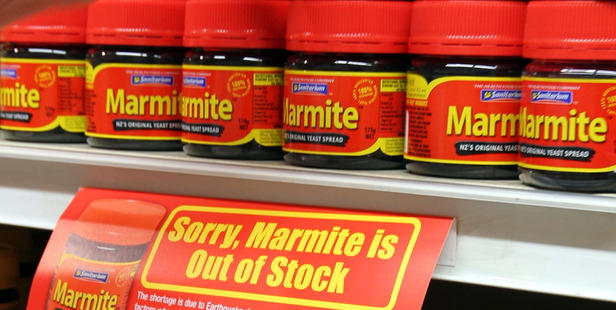 Jars of Marmite are arriving at stores around the country today covered in black plastic to stop people being tempted to sell them early.
Marmite will be on shelves from midnight tonight - for the first time in more than year.
Sanitarium has made more than 500,000 jars and the company hopes that will meet demand.
General manager Pierre van Heerden said it was difficult to predict where people would shop so some areas might sell out.
"What we will be doing is encouraging our consumers to go online to our Marmite Facebook page to ask people in their areas [who] know the stock in their stores to let everyone know and then we can hopefully spread the joy around," Mr van Heerden said, pun intended.
Sanitarium's Christchurch factory was damaged in the February 22 earthquake in 2011, causing supply to dry up about a year later.
The Marmite drought led to opened and used jars being auctioned online for exorbitant prices.
New Zealanders buy about 850 tonnes of Marmite every year.
After repairs to the factory, the machines were turned back on in early February.