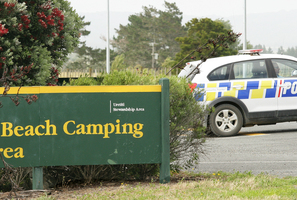 A search for a missing Auckland man presumed drowned off a Northland beach has been scaled back.
Alexy Ivanov, 34, was last seen entering the water off Uretiti Beach, south of Whangarei, about 5pm last Wednesday.
Police were alerted by Department of Conservation staff when they noticed his clothes and car were untouched.
The sonar scan was completed on Saturday.
Police have scaled down the search with a small number of staff covering the beach area this morning, the spokeswoman said.
The search was part of a busy weekend for Northland police search and rescue staff.
On Saturday police received a call about 4.30am that a yacht had run onto rocks at North Cape.
The Auckland man, who was sailing the yacht to Houhora, had abandoned the boat and had set off his emergency locator beacon.
The Northland Emergency Services Trust (NEST) Electricity rescue helicopter was sent to the area and winched the man to safety.
Also on Saturday, about 3.30pm, police were called to help a drunk man who broken his ankle when he fell at the Mermaid Pools at Matapouri.
The spokeswoman said he had been fishing with three other men. He was winched out by the NEST helicopter.
About an hour later police were alerted to two divers, a man and a woman, who went missing while diving at the Poor Knight Islands. They had been diving at the Northern Arch of the islands.
The rescue helicopter spotted the divers' survival sausage balloons. They had been caught in a strong current and had drifted 2km north of where they entered the water.
Yesterday, about 2pm police were called after a 67-year-old woman broke her ankle while tramping on the McKenzie Limestone Track at Springfield, south of Whangarei, the spokeswoman said.
The woman had been tramping with a group of 11 others when she hurt her ankle.
Police search and rescue staff carried the woman out on a stretcher.
Northland Police Search and Rescue head Senior Sergeant Clifford Metcalfe said while it was a busy weekend for staff, many of the people who needed rescuing had gone out well-equipped.
The yachtie who ran aground was very well prepared with emergency gear, including good communication equipment, and had informed people of where he was sailing, he said.
"The divers were experienced and had rescue sausages, so we were able to find them quickly."
Mr Metcalfe also praised the tramping group for having some form of communication (cellphone) and being equipped with enough gear for an emergency such as warm and wet weather clothing and a thermal blanket.
"Having all the necessary equipment and some form of communication not only helps us locate people easily, it also prevents an emergency situation turning into a tragedy."
- APNZ