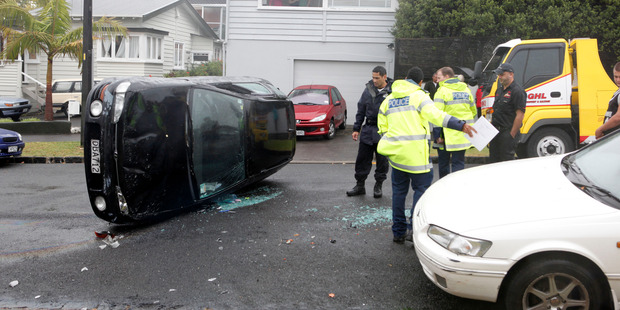 Yesterday's long-awaited rain provided some respite for farmers but created trouble for drivers who were not used to the wet conditions.
Police reported a higher number of crashes over the weekend.
In Whangaparaoa a car skidded as it went around a corner because the roads were so slippery.
Sergeant Dan Weir of the police Northern Communications centre urged people to take extra caution.
"People need to drive to the conditions. When it hasn't rained for a while, there's extra rubber on the roads which can be dangerous," he said.
In Pt Chevalier, a teenager rolled the car he was driving after clipping a parked van in Bungalow Ave.
The 16-year-old boy was uninjured but he was trapped in the car before being freed.
Sergeant Dan Weir said there wasn't any indication that the crash was weather-related but an investigation would determine if the wet roads played a part.
The windy weather also brought down power lines. Fire Service northern communications shift manager Jaron Phillips said gusts brought down lines in Waimamaku in the Far North and New Lynn in West Auckland, where the downed lines caused sparks.
In South Auckland, the wind also brought down phone lines in Otara and Manurewa.
It was the most rain the country has seen since the first week of February, but not nearly the 100mm needed to break the worst drought in decades.
Keith Kelly said he would need much more sustained rain to get his Clevedon sheep and beef farm, near Auckland, back to its pre-drought condition, but the showers were certainly welcome.
"The only positive aspect is it will put water back in the tanks. It will also help freshen the grass but it won't sustain long-term grass growth."
MetService forecaster Leigh Matheson said: "It's been reasonably modest but it's quite widespread, which is heartening.
"As of tomorrow, most parts of the country should have seen rain; some more than others." Another anticyclone was forecast to reach New Zealand tomorrow, meaning a return to the dry weather, but this was followed by another low which could bring rain next weekend.
Weatherwatch analyst Richard Green said the North Island needed 70-100mm of rain to break the drought.
"But we don't want that all at once because the ground is so hard it would run off and create flooding. Ideally, we would like close to 100mm of rain over two to three weeks."
Federated Farmers' president Bruce Wills said yesterday's rain showed the relentless string of anti-cyclones passing over the country appeared to be broken.
While farmers who received 5-10mm of rain would still be very much in drought, their spirits would be lifted. "All it'll do is bring some hope and wash some dust off some leaves. It won't be enough for good grass growth, but at least it's a start and it'll start softening up the soil."
Meanwhile, Finance Minister Bill English now believes the drought could cost the nation's economy up to $2 billion - double the figure estimated last week.
"The latest advice is that somewhere between $1 billion and $2 billion will be knocked off our national income, and as every week goes by, the prospect of it being $2 billion instead of $1 billion grows," he told TVNZ's Q+A programme.
Mr English warned that the drought could potentially knock 30 per cent off New Zealand's growth rate in a year. "This underlines for us the importance of our primary production sector," he said.
The drought is expected to have an effect on milk prices. ANZ rural economist Con Williams told Radio New Zealand prices may rise by up to 20 per cent, meaning a $3 two-litre container of milk would cost $3.60.
additional reporting: Amelia Wade
- APNZ