Grieving father calls on young people to step up, after son's high-speed death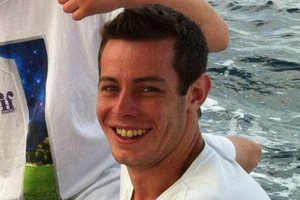 The father of a disqualified driver who died in a high-speed collision with a truck yesterday is urging youngsters to report their mates if they are driving illegally.
Alan Moss' son Callan, 20, died in a crash north of Taupo at 1am, seconds after passing a police car that was turning to give chase.
Moss urged young people to have the courage to report their friends to police.
"The time has come to take stock, to really work out how to stop young drivers drinking and taking drugs. The police should review their strategies in terms of policing young drivers because ... what they're doing is not working and there will be more fatalities."
A Ministry of Transport report indicates young drivers with licence issues, such as being disqualified, caused up to 8.8 per cent of New Zealand's fatal crashes between 2006 and 2010.
Moss was disqualified but friends said he kept driving around Taupo in his high-performance Honda Integra V-Tec at speeds of up to 200km/h.
A friend, Shaan Gwatkin, said he saw Moss doing burnouts three weeks ago, but he did not tell police when they arrived.
"They didn't see who had been driving and I didn't dob him in. I'm really regretting it now - maybe he would still be alive today ..."
Gwatkin said he'd known Moss about a month and Moss had two passengers yesterday: 17-year-old local girl Shayde Sharp and a friend from Auckland.
"I always told Shayde don't get into the car with him because he's disqualified," Gwatkin said. "Before the crash they had been drinking and drag-racing other cars on the (East Taupo Arterial) bypass.
"About three weeks ago they had been drag racing and doing burnouts on the bypass doing up to 250km/h," he said.
Moss was speeding away from police when he crashed, Gwatkin said.
"When he saw the truck ahead he tried to brake but couldn't slow down in time. He tried to overtake the truck but clipped it, spun out and smacked into another truck coming the other way.
"I don't think he was wearing a seatbelt because he slumped on to the passenger side. (The Auckland boy) was in the front and he felt for his pulse. He got a pulse but then it got slower and he died then and there."
Sharp and the Auckland boy were taken to hospital with minor injuries.
Sharp was recalled for more x-rays yesterday. "She's bruised and battered but nothing's broken. She's lucky to be alive," Gwatkin said.
Police spokeswoman Kim Perks confirmed the driver had been disqualified. "A police car was travelling in the opposite direction to the vehicle. The vehicle was speeding and the police vehicle was in the process of turning around to stop the vehicle when the crash happened."
Alan Moss said his son believed he was invincible, like so many other young men. "He was a very popular young boy in the Taupo community ... He liked fast cars and he was a risk taker. In some ways these guys are a bomb ready to go off," he said.
"I hope if anything comes of this, other young drivers will take heed ... There was a girl killed by a suspended driver who was drinking and on drugs in Reporoa who was sentenced only recently in Rotorua."
Trent Robertson, 22, was this month sentenced in the Rotorua District Court to three years' jail for driving dangerously causing death, driving with excess blood-alcohol causing death and driving while suspended. He was drunk, had been smoking cannabis and was driving a car with home modifications at speeds of up to 130km/h when he lost control. His car crashed and flipped on its roof, killing passenger Annalese Bacon, 17, also of Taupo.
Taupo Area Commander Steve Bullock said people should have the courage to stop their friends driving if they had been drinking, were disqualified, speeding or driving dangerously.
"Young people need to look after their mates and stop this behaviour. It could save their life."