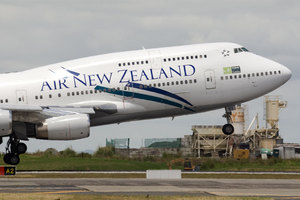 A consumer watchdog has called Air New Zealand credit card surcharges draconian - but how much you pay depends on where you book your tickets.
The Herald on Sunday has been running a campaign against retailers charging excessive credit card fees.
Dozens of readers have written in, many complaining about Air New Zealand.
Air New Zealand charges $4 on all online domestic bookings, $6 on transtasman and Pacific bookings and $17.50 on most international flights - for each one way flight.
A passenger booking a flight to London and opting to stopover in Hong Kong could pay $17.50 twice.
But customers in Britain booking Air New Zealand flights are charged £15 ($27) in credit card fees - and it is much easier to avoid.
In New Zealand, the only other payment option is POLi, an internet banking option that the banks have criticised as being insecure.
Both credit and debit cards are charged the fee. But in Britain, users can avoid the fee by paying with a debit card. In the United States, passengers do not pay a credit card surcharge at all.
Asked if New Zealand passengers were subsidising the credit card costs of travellers in other parts of the world, Air New Zealand spokeswoman Brigitte Ransom said: "The card payment fees that are applicable in a market are set to offset the costs associated with card payments in that market."
It is understood Air New Zealand pays about 1 per cent of each transaction in service fees.
Consumer chief executive Sue Chetwin said Air New Zealand's charges seemed draconian. She said the idea behind surcharging had been that it would enable retailers to lower prices for customers who did not pay by card. But fares had remained the same.