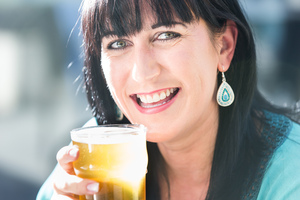 Wendy Roigard doesn't fit the stereotype of beer drinker. She's a woman, she was "born in heels and drinks beer froma glass".
Roigard hasn't always been a beer fan. Her passion developed when she started working for a malt importer, and subsequently helping to organise the popular festival Beervana. Her love of beer developed over this time and she's now a beer buff to such an extent she has developed her own brand.
Her craft beer brand Valkyrie came into being in 2011. The first beer was Brynhild Golden Ale.
"It is a simple, subtle European style golden ale, but it's flavoured with hokey pokey," says Roigard.
She is nowthe business and marketing manager for BEERNZ, New Zealand's largest craft beer distributor.
Roigard says the craft beer industry is male-dominated, yet she has found it to be very nurturing and accepting. "It is a great community," she says.
"The people are amazing. And although it is male-dominated, more and more women are getting involved."
Wendy says that she can understand why beer marketing is targeted at men ("It's mainly men who buy the mainstream brands") but she thinks it may be time for a paradigm shift.
"I think (big beer brands) should raise the bar a bit. It may actually lead to change the public's attitude towards beer in New Zealand."