Drought spreads to normally wet West Coast region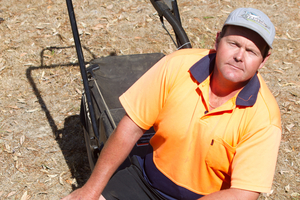 Rain is still on track to spread across the country this weekend, bringing much-needed relief to the parched North Island and parts of the South Island heading the same way.
The remnants of Cyclone Sandra and a weather system in the Tasman Sea would move across the New Zealand from late tomorrow, bringing wet weather until Monday, the MetService said.
Severe weather warnings were in place for Westland, Nelson and Buller.
Farmers are experiencing widespread drought from an extended dry spell, with the entire North Island declared a drought zone and parts of the South Island getting drier by the day.
The announcement was made on a Manawatu sheep and beef farm by Primary Industries Minister Nathan Guy this morning.
Northland, Auckland, Waikato, Bay of Plenty and Hawkes Bay had already been declared to be in drought.
Manawatu, Rangitikei, Taranaki, East Coast, Wairarapa and Wellington have been added to that list.
The declaration means that farmers in these regions will be entitled to receive Government assistance.
Mr Guy said it had become clear that nearly all farmers in every part of the North Island were facing very difficult dry conditions.
"This is a difficult time for rural families and they need to know that the Government and all New Zealanders are behind them."
Extra government funding will be available to Rural Support Trusts who worked closely with farmers, providing support and guidance as well as rural assistance payments available from Work and Income.
Federated Farmers president Bruce Wills said he could not recall a time when the entire North Island had been in drought.
He said government financial assistance would be a drop in the ocean compared to what farmers had lost or were going to lose but the emotional support the declaration offered was very welcome.
"These are people that are suffering through no fault of their own, through an act of God.
"We have real concerns about the emotional stress and difficulties that many families are coping with and that's the predominant benefit that comes from a drought declaration," he said.
"It doesn't mean any money directly to farmers, it's just about having some competent, expert people out there who are able to be at the end of the phone, or to sit around the kitchen table and talk it through."
Federated Farmers Manawatu-Rangitikei president Andrew Hoggard, who runs a dairy farm near Feilding, said the declaration was a welcome recognition by the Government of their struggle.
"When everyone recognises you're having a hard time you probably feel a little bit better about yourself, whereas if there's not that recognition there's probably people out there that think it's their fault and they just need to harden up.
"This shows that they've done what they can but they're dealing with something that's beyond their control."
The normally wet West Coast today became the first region in the South Island to apply for an official drought declaration.
About 30 people gathered at the West Coast Regional Council offices to see if data amassed over the long, dry summer supported a bid for drought assistance.
"The [meeting] decided we should apply to have a medium-scale adverse event declared urgently," Federated Farmers West Coast president Katie Milne said.
The meeting was told official soil moisture data showed the West Coast was as dry as Waikato.
Meanwhile, lawnmowing businesses are also being affected by the dry conditions.
Jason Sutton, owner of Lawnshark lawnmowing business in Auckland, has seen his jobs drop drastically as the grass is just not growing.
"Normally we're doing lawns every fortnight (in summer) but at the moment I'm doing them every three or four weeks."
- APNZ