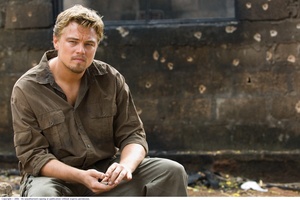 A man convicted of stock market crimes on Wall Street is heading to New Zealand to give Kiwis some of his salesman tips.
American Jordan Belfort, who is played by Leonardo DiCaprio in the upcoming Martin Scorsese film about his life, The Wolf of Wall Street, will be in Auckland in May.
Now a motivational speaker, the former drug-addict dodged questions about his colourful past while talking to the Herald from Los Angeles.
But he was more than happy to talk about his day-long "boot camp" in which he will talk about his Straight Line salesman pitch.
"It really helps empower salespeople and anyone who's looking to influence ... corporates, business people, salesman of any type - even moms looking to get their kid to make their bed - it's just influence."
The 50-year-old was jailed in 1998 for securities fraud and money laundering while running a boiler room under his brokerage firm Stratton Oakmont.
He spent almost two years in prison and earned the nickname the Wolf of Wall Street.
He has since written two books, Catching the Wolf of Wall Street and The Wolf of Wall Street, and now tours the world as a motivational speaker.
Mr Belfort's life has been played out on the big screen already in the popular film Boiler Room, but is set to gain even more exposure with DiCaprio's portrayal in the Martin Scorsese-directed movie, to be released in November.
Mr Belfort said working with Hollywood stars was surreal.
"Leo and I worked really closely together. He's an unbelievably dedicated guy. We spent hundreds of hours going through the scripts and dialogue.
"He's just really committed to excellence. Scorsese was amazing too. It was a really great experience."
Asked if he felt New Zealanders were easily influenced, Mr Belfort was quick to answer.
"I don't think Kiwis are gullible any more than Americans are gullible," he laughed.
"Sometimes getting someone to say 'yes' when they're on the fence has more to do with their belief system. So a huge part of influence and persuasion is understanding your own customers' belief systems and their values.
"There are probably some very gullible Kiwis out there and some very tough Kiwis - same as everywhere else in the world."
Mr Belfort, who has visited New Zealand once before, will also be giving private seminars for a number of businesses in Auckland.