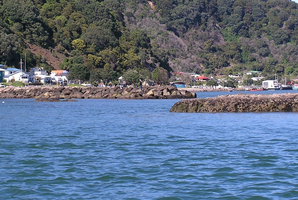 Four people have been rescued from a sinking boat off the Opotiki Bar in the Bay of Plenty.
Police and Coastguard received a distress call about 8am today that an 18ft (5.5m) boat 5km off the Opotoki Bar had spilt its hull and was taking water on rapidly.
The four people on board were in contact with Coastguard through VHF radio but this was threatened as the boat filled with water, submerging the battery.
The Opotoki Coastguard responded immediately, along with a Whakatane Coastguard Rescue boat.
The Rescue Coordination Centre was also notified, putting a distress call out over the emergency marine radio channel for assistance from other boats in the area.
Local boat "Big Red" responded to the call, rescuing those on board just before the boat sank.
Police have praised the skipper and rescued crew, pointing to good safety equipment including life-jackets, a VHF radio, flares and a cell phone.
"They basically took the word 'search' out of 'search and rescue' which is always going to help save your life," police said.
- nzherald.co.nz