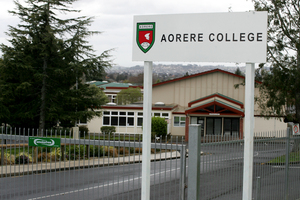 An Auckland school has pulled its students out of this week's Polyfest due to a brawl believed to have involved weapons.
Police with aerial support were called to Aorere College in Manukau last Friday after a fight broke out on the rugby fields.
One student was injured during the incident, believed to have been started by five students egged on by dozens of bystanders.
Aorere principal Patrick Drumm told Radio New Zealand the school would not be taking part in this weekend's Polyfest due to "security concerns".
"[It was a] very, very difficult decision for us. This would have been our 38th year in a row as a foundation school."
Polyfest is the largest Maori and Pacific Island cultural festival in the world. This year, 9000 students from 59 schools and 200 performing groups were expected.
About 300 Aorere College students from years 9 to 13, aged around 13 to 17, were meant to participate, including students in their final year of school who had been involved in Polyfest for the past five years and would not have another opportunity to take part.
"This has happened right at the end of a very intense five or six weeks of practices but we felt that what happened on Friday needed a serious response," Mr Drumm said.
It has been reported that the troublemakers had been part of rival gangs, but Mr Drumm said there was no indication that was the case.
The students involved were facing disciplinary action by the school's board of trustees.
PolyFest Trust chairman Steve Bovaird said the incident had nothing to do with the festival and it was solely the school's decision.
"The principal has just felt that in order to calm things down, the school would not participate at PolyFest this year.
"As we understand it, PolyFest is not the only thing the school has opted to not take part in this week, including sports and games being cancelled."
Mr Bovaird said the festival was a very safe environment, with bags checked at gates and no gang colours allowed.
- APNZ