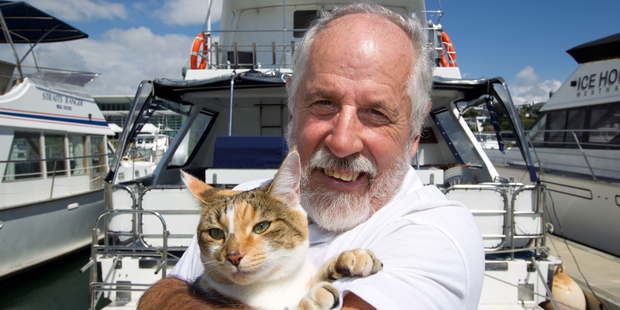 The owners of a seafaring cat who was presumed drowned after falling overboard were amazed to be reunited with their pet nearly five weeks later.
Molly has spent much of her life on Ray Silver and Wendy Steedman's charter boat but lost her sea legs during an expedition last month.
Mr Silver had anchored his Motorcat about 80m out from a jetty near the navy's Kauri Point arms depot and taken a dinghy to visit a friend. But when he returned later that night, Molly was missing. Calling out frantically, some people on a nearby boat told him they had heard a splash about 20 minutes before his return.
After spending much of the night searching, he called his partner to deliver the bad news.
"I immediately thought that she had drowned. I thought she's gone underwater, the breath has been knocked out of her, she doesn't know to hold her breath, she's drowned," Ms Steedman said. "Our boat is quite high at the top, and to make a splash to be heard from another boat, she must have fallen from quite a high distance."
But on Wednesday the SPCA rang to say they had her microchipped cat.
"Of course I just burst out crying. I went straight to the person I work with and said, 'I'm going, I've found Molly, I've got to go'."
A man living about 30m from the beach near where Molly went missing had adopted her and later dropped her into the SPCA as he was moving to Australia.
"We lost her on February 4, and she wandered in to his place on February 12. He already had three cats and two dogs, so it was a blessing to us that he would accept another cat.
"And she bowled on in there like she was 6ft and bullet-proof. She just went through the cat door in the garage and started eating the food."
She said it showed how important it was to have pets microchipped.
The ginger, white and brown tortoiseshell cat was still adjusting after being brought back to their Ponsonby home on Wednesday.
"She didn't know her name, she didn't know me or the house. But she's getting back to normal now. She was a little bit aloof [on Wednesday] ... she's been used to being Shirley for about four or five weeks."
Mr Silver, who had refused to believe his "second mate" was dead, said she would soon be back on the boat - although they planned to hang towels from the side and teach her to climb back onboard in case of another mishap.
"I had a friend say to me, 'Are you going to take her back out on the boat?' I said, 'I don't think you'd keep her off it'.
"When she first came to the house, she was only here for two weeks as a kitten. She spent the next four weeks on the boat, so the boat became home."