Dead teens' cousin admits manslaughter, expresses regret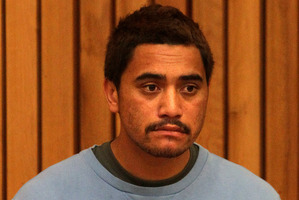 The driver of a car which collided head-on with a ute on a Tauranga road, killing two teenage sisters, says the crash will stay with him for the rest of his life.
Hetaraka Hikurangi Reihana called out "guilty" before the registrar of the court could finish reading each of the charges laid against him as he stood in the dock of the High Court at Hamilton yesterday.
The 21-year-old had earlier denied the manslaughter of Merepeka Morehu-Clark, 14, and her 13-year-old sister Brooklyn. So had his co-accused, the girls' mother, Phillippa Vanessa Morehu, 36, and 18-year-old Haki Tetuere Davey.
The Crown is trying to prove the trio were involved in a race in which Reihana lost control of the vehicle he was driving and crashed into an oncoming ute driven by Brett McCready in Welcome Bay Rd on Christmas Day 2011.
Reihana's lawyer, Panama Le'au'anae, admitted the guilty plea had come "at a very late stage" but the accused had now accepted responsibility for his actions.
"He wishes to express his profound regret to the family for the loss of his two cousins and to Mr McCready. It is something that will prey on his mind for the rest of his life." Reihana's conviction is his second under the three strikes law. He will be sentenced on May 31.
In his final address, Crown prosecutor Greg Hollister-Jones claimed Reihana was not acting on his own. He said Morehu held influence over both Reihana and Davey as their aunt and, as the first to leave an Orion Drive house after several alcoholic drinks, "set the pace" in a race to the family urupa (graveyard).
Mr Hollister-Jones also said she knew Reihana was drunk "to the point of being clumsy" and should never have driven before she swapped her car keys with his.
He questioned why they would swap cars unless they had been planning to race to the urupa.
But Davey's lawyer, Paul Mabey, QC, said there was no evidence to show that his client was racing either Morehu or Reihana to get to the urupa first.
Davey, he said, never left his lane nor did he try to overtake Morehu at any stage. He was also able to slow his car down shortly before reaching the urupa in the moments before the crash.
Morehu's lawyer, Glen Dixon, said there was insufficient evidence to suggest she was party to a conversation about a race or that she encouraged one.
Mr Dixon said her swapping keys with Reihana was merely that.
"My client absolutely denies she assisted Reihana in driving dangerously, she denies she encouraged him to race and denies there was ever a race, particularly in respect of her because plainly Mr Reihana was acting on his own," he said.
The jury is expected to deliver a verdict today.