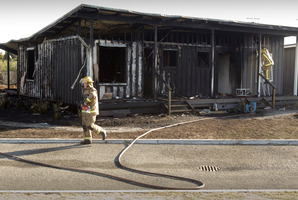 A wheelchair-bound man killed when fire gutted his flat in Napier early yesterday would have had no chance of escaping the ferocity of the blaze, witnesses say.
The victim was thought to be a 57-year-old man paralysed many years ago in a motorbike crash, but he was still to be positively identified.
He was found dead when firefighters entered his gutted flat at Kahukura, a 10-unit complex opened by Whatever it Takes Trust (WIT) for intellectually and physically disabled residents 18 months ago.
Acting Hawkes Bay CIB head Detective Sergeant Mark Moorhouse said the scene was being "locked-down, cause undetermined" pending a post-mortem examination today.
The chalet-style unit was ablaze when the alarm was raised at 5.08am, and the body was discovered after the flames were extinguished.
With a single staff member on "wake-over" overnight, all the other clients were evacuated.
Neighbours Allen and Liz Street were unaware of anything amiss until Mr Street looked out from a window and saw the glow from the flames in the distance.
It was barely minutes after the Fire Service had been called and appliances were on their way, but the the consequences if anyone was inside were obvious.
"It was well involved in flames by then," Mr Street said. "It was four or five minutes before the fire brigade arrived. We just stood in awe. It was gone."
Mrs Street said she had been concerned that one caregiver on-site overnight would not be enough for the number of residents with difficulties caring for themselves.
WIT chief executive Caroline Lampp spent more than six hours at Kahukura yesterday and said: "It's very sombre down there. We've lost a much-loved member of the Kahukura community. He was a colourful character who was loved by all of them."
Fire Service Hawke's Bay area manager Chris Nicoll said he understood the evacuation of all residents had taken place by the time firefighters arrived.
While police were still investigating, Mr Nicoll said it was thought the fire started in the bedroom of the unit.
While the gutted flat had a wheelchair ramp, Mr Nicoll said such fires always highlighted the need for people to ensure escape routes were available to be used by all occupants at times of fire.
Whatever It Takes Trust is currently providing services for about 250 impaired and disabled clients, mainly in independent accommodation without live-in care, one of the aims of the Trust for all its clients.
For more articles from this region, go to Hawkes Bay Today