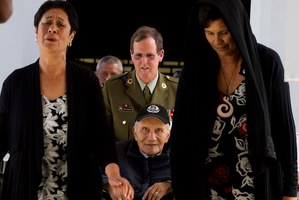 When a handful of surviving veterans of the legendary 28th Maori Battalion rose yesterday, they knew they had one more special mission.
And so they climbed on a bus to the National Army Museum at Waiouru - and what would become the new home of the World War II battalion's treasured taonga, a ceremonial greenstone mere.
The mere was given to the 28th Maori Battalion (NZ) Association by D Company veteran Tahu Potiki Hopkinson in 2000 and has since passed through the hands of seven presidents.
After the decision to wind down the association, its founding members decided the museum should become the kaitiaki, or guardian, of the mere.
"In true military style, they planned everything out," said battalion spokesman Matt Te Pou.
"They had talked about this for a very long time and in 2010 they put in place that this day would come and this mere would be handed over.
"They use the words whaka tika te whare - they wanted to make sure their house was in order."
Six veterans, in their 90s, were able to attend yesterday's ceremony, of 23 surviving. Rotorua B Company veteran Aubrey Huia Balzer had planned to join them, but died suddenly at the weekend while mowing lawns at his beach house. He was 92.
"It was tough for them to make the journey, but they had a mission, they accepted it, they've now done that and they'll be feeling very happy about it," Mr Te Pou said.
After the ceremony, the veterans were honoured with a rousing haka from a visiting school group.
The mere will be exhibited near the greenstone Wall of Tears, symbolising the sacrifices of fallen Maori soldiers.
"It's a very special and poignant place for it," said museum director Jeanette Richardson.
"We will treasure the mere and our role as guardian very much."