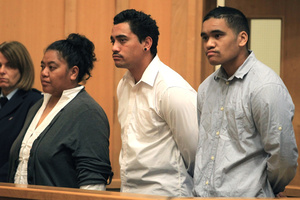 A mother accused of racing on a Tauranga road with two others moments before her daughters were killed in a crash has admitted she was speeding - but still denies being in a race.
Phillippa Vanessa Morehu is one of three people on trial in the High Court at Hamilton for the manslaughter of her two daughters, Merepeka and Brooklyn Morehu-Clark, who died in the collision on Welcome Bay Rd on Christmas Day 2011.
The Crown alleges that Morehu, Hetaraka Hikurangi Reihana and Haki Tetuere Davey were racing to a family urupa (cemetery) in the lead-up to the accident.
Yesterday, the court watched a videotaped interview Morehu gave to police in which she said that she and Davey were driving at about 100km/h but slowed down near a corner at the Welcome Bay Rd intersection with Waitao Rd.
Reihana, who was driving Morehu's unwarranted and unregistered Honda, overtook the pair - at a speed later estimated by police crash analysts to be about 142km/h - but lost control and collided side-on with an oncoming ute.
Morehu consistently denied being involved in a race when questioned by Detective Craig Rawlinson, who put it to her that she led the convoy from her Orion Drive home, where they had been drinking. But she later admitted to speeding after several witnesses said they saw three cars driving at high-speed and tail-gating one another around the time of the accident.
When asked why she was driving so fast, she said, "My explanation is getting there the faster the better, but it was not a race, I can assure you that."
She was then asked to explain the difference between speeding and a race. "There's no difference, I suppose."
Morehu, driving outside her restricted licence conditions, said Reihana did not want to drive because he had been drinking.
"He didn't really like drinking and driving ... He told Haki [Davey] he didn't want to drive before he gave him the keys."
She felt guilty about what had happened and did not know that her two daughters had got into the car with Reihana.
"I blame myself for all of that. I didn't know they had got into the car ... You know what? I do want to be punished for that, for losing my kids. If I didn't go anywhere they would still be here today."
Senior Constable Christopher Hills, who analysed the crash, said it was unlikely the girls would have survived even if they had been wearing seatbelts.
The Crown is expected to wrap up its case today.