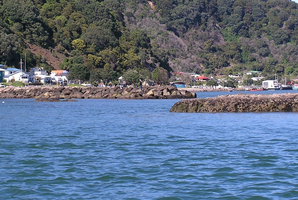 Two men were plucked from the Whakatane bar today after their aluminium dinghy was hit by a freak wave and capsized.
Whakatane Coastguard president Peter Milton said coastguard volunteers on duty could only sit and watch as the men's boat was hit by the wave inside the bar and the pair were thrown into the surf.
"There was absolutely nothing they could have done," Mr Milton said. "Nine times out of 10 boaties will manage to get themselves out of that situation but, in this case, there was nothing these two could have done."
He said the anglers had done everything right including wearing life jackets.
Within minutes of the men capsizing four or five boats, including Coastguard and the Harbour Superintendent's vessel, were in the area and on hand to get them out of the water and on to dry land.
The five volunteers aboard the Coastguard vessel tried to upright the boat but, after numerous attempts, towed it through the bar. Only the rudder was visible to the crowd of onlookers who had gathered at the Heads to watch the drama unfold.
The two boaties, who did not wish to be named or talk about the incident, thanked all the people involved in the rescue including a surfer who came to their aid.
For more articles from this region, go to Rotorua Daily Post