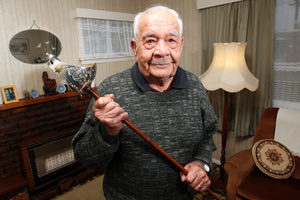 Another chapter in the legend of the New Zealand Army's 28th Maori Battalion was marked today when its ceremonial greenstone mere was gifted it to its new guardian - the National Army Museum at Waiouru.
The greenstone mere was donated to the 28th Maori Battalion (NZ) Association by D Company veteran Tahu Potiki Hopkinson in 2000, and had since passed through the hands of seven presidents.
In 2010, the founding members of the association decided the museum would become the kaitiaki, or guardian, of the mere.
Seven of the surviving 23 veterans of the storied battalion attended a moving ceremony to mark today's handover, before being honoured with a rousing haka by a visiting school group.
Museum director Jeanette Richardson ONZM said the museum was "delighted to be able to fulfil the kaitiaki role for such a precious item".
"We will treasure the mere and our role as guardian very much."
Having served in the Greece, Crete, Italy and the Western Desert campaigns of World War 2, the battalion held a fearsome reputation and received more individual bravery decorations than any other New Zealand battalion.
One of its members, Second Lieutenant Moana-Nui-a-Kiwi Ngarimu, posthumously received the Victoria Cross for his actions against a German panzer grenadier battalion at Point 209 at the Tebaga Gap, North Africa.
The award was also recommended to another member, Sergeant Haane Manahi.
The most recent loss to the battalion was B Company veteran Aubrey Huia Balzer, who died suddenly while mowing lawns at his beach house in Maketu on Sunday.
He was 92.