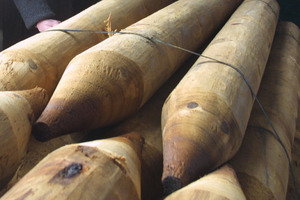 A Dunedin fence post producer has been fined $52,000 and ordered to pay $40,000 in reparations over an accident which cost an employee his leg.
The worker's leg was dragged into a post-peeling machine at Juro Corporation Limited (JCL) - trading as Great Southern - in May last year, the Dunedin District Court heard yesterday.
The extent of his injuries meant that his leg had to be surgically amputated below the knee.
An investigation by the Ministry of Business, Innovation and Employment found that JCL had failed to identify hazards on the post-peeling machine, which was more than 20-years-old, and did not have guarding in place to protect workers.
"Regardless of the age of the machine, we have current guarding standards that must be complied with to ensure workers are kept safe.
"There is simply no excuse for this accident and its very unfortunate impact on a worker who had every right to expect to be safe at work," said Francois Barton, the Ministry's Southern Regional Health and Safety General Manager.
- nzherald.co.nz