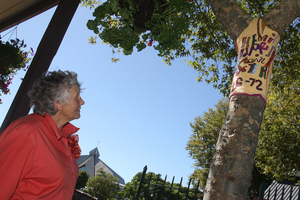 Stories making headlines across New Zealand at noon include Guerrilla knitters on the loose in Wanganui and barking boot camp instructors waking residents.
Guerilla knitters appear to have been sneaking around in the dead of night in Whanganui.
When Mike Taka complained about being woken up before 6am by the noise of boot camp fitness instructors barking orders he was apparently told to "stop moaning and bugger off."
Police are on the hunt for a fully starkers man who nearly stopped traffic in Waipu yesterday.
An Army investigator told Venus Poa she may never know the truth about the death of her son in Afghanistan last year.
A Northland man realised as soon as he struck a match to burn a pile of rubbish it was a huge mistake.
Unitary Plan. Now there's a phrase. A concept. Nay, a dream, a vision, to stir the blood, to race the pulse.
The former head of security at Rotorua's Heaven & Hell has admitted beating up one of the nightclub's owners.
Thieves have been raiding cars and homes in an upmarket Tauranga suburb with nine of the cars unlocked at the time.
Initial reports were that a 42-year-old man had been shot on his front lawn in Munro Street, Elgin, by a gang member.
Wanganui's wandering turtle may be a stray, but it's not from the lake.
A Spitfire, flown by Royal New Zealand Air Force Squadron Leader Sean Perrett, is set to fly over the funeral of Battle of Britain veteran Alan Antill Gawith in Masterton today.
Christchurch leaders have questioned the effectiveness of the $1 million-plus annual cost of trying to beat graffiti.
More than six plastic shopping bags full of cannabis were allegedly seized when police pounced at an address in Palmerston.
Oceana Gold has formally lodged an application for an underground mine in the abandoned gold town of Waiuta.
Top trending topics on Twitter in NZ at noon were: #JamesTo400k, #first30songsonshuffle, #nzqt, Argo, New Zealand, MRP, #nzpol and Auckland.
Other stories making headlines this morning were:
Drought bites, wages halve
Fans wait to see stars of Top Gear
Mountain trails hard to beat
Brave battle continues for little Elliott
Bay of Plenty executive evades tax
Putting heart and soul into marae makeover
Declare a drought, farmers urge Govt
Six months of big dry in Hawke's Bay