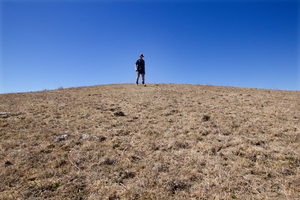 Finance Minister Bill English does not believe the drought will affect the forecast budget surplus in 2014 - 15 but it would affect the economy for a couple of years.
Treasury was looking carefully at the forecasts for the May 16 Budget, he told reporters at Parliament this morning.
"I would expect though, that we will still be able to achieve surplus."
The extent of its effect on the economy was yet to be known but its impact would last at least a couple of years.
It would take some time for farmers that slaughtered stock to rebuild their herds and it would take time to work off the tax losses.
He said that recent forecasts, showing better than forecast revenue, might have given him more choices over spending, but that would now be removed.
"It probably means that where we were expecting a bit more room to move because things were running a bit better than expected, that that is not now going to be the case.
"The drought will peg that back but we have yet to see how far."
He did not think it would be a dramatic difference but it would continue to be a tight Budget.
Some of the banks had estimated that it would affect gdp from $500 million to $1 billion.
"If it is that big it would affect our tax take," Mr English said.
The Budget in May last year forecast a $197 million surplus in 2014 - 15 but by the half-yearly update in December that had been reviewed downward to $66 million.
In the latest set of Crown accounts for the seven months to January 31, expenses $282 million under forecast and revenue was $486 million above estimates.
Northland, South Auckland, Waikato, Bay of Plenty, and Hawkes Bay have been declared drought zones. Other areas expected to also be declared drought area include Tararua, Wairarapa, Manawatu-Rangitikei and Taranaki.