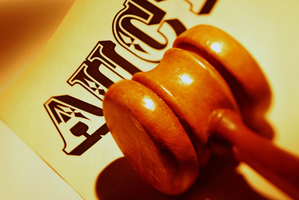 An auction of memorabilia belonging to the man who passed himself off as a Tahitian prince has raised more than $1 million.
Nearly 1000 items - including a Louis Vuitton surfboard and original artworks - seized from former Thames man Hohepa "Joel" Morehu-Barlow went under the hammer at Brisbane auction house Leonard Joel on Sunday.
They were put on the block alongside such mundane items as a fridge, power drill and steam mop.
The sale of the goods was expected to raise more than A$300,000 (NZD$373,000) for Queensland Health, the employer Morehu-Barlow is accused of ripping off to the tune of $19m.
However, auction house managing director John Albrecht told the Telegraph total proceeds were A$914,000 ($1.1m).
A Louis Vuitton fur collar, with an estimate of A$100 to A$200 sold for A$650; a Hermes towel, still in its box, estimate A$100 to A$200, went for A$800; a Hermes saddle sold for A$5500, more than double its estimate; and the Louis Vuitton surfboard (A$1200-A$2400) was bought for A$6500.
The most valuable item up for grabs was a new A$95,000 Bang and Olufsen television, which the auctioneers expected to sell for A$15,000 to A$20,000. It went for A$55,000.
Several luxury cars and a A$5.65m property owned by Morehu-Barlow had already been sold.
Authorities froze his assets and seized millions of dollars of property, some from family and friends, in a bid to recover some of the funds he allegedly siphoned off.
Morehu-Barlow, 37, is set to plead guilty in a Brisbane court later this month to allegations of fraud, committed while he worked as a manager for Queensland Health between 2007 and 2011.
He was arrested in December 2011.
His charges included two counts of aggravated fraud, two of aggravated forgery, one of aggravated uttering, two of possessing dangerous drugs, one of possessing a relevant substance and one of possessing drug utensils.
- APNZ