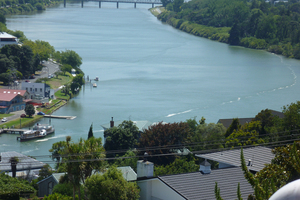 The Whanganui River is flowing at its lowest levels in more than three decades, as the dry weather continues.
Horizons Regional Council's science manager Jon Roygard said the Whanganui was flowing at around 25,000 litres per second yesterday morning, as recorded at the monitoring site at Te Rewa - the lowest for 35 years.
Dr Roygard said hydroelectricity takes in the upper catchment of the Whanganui had had restrictions in place for several weeks.
There has been no rain in Wanganui since 60mm fell over two days in early February, but it's been even longer since the headwaters of the Whanganui had any rain.
Dr Roygard said the Whanganui was not alone in this, as rivers in the entire Horizons region were running at very low levels.
The Rangitikei is at its lowest level in five years, and restrictions on irrigations were in place upstream of the Onepuhi flow recorder, near Marton.
"In general, the area that is further downstream in the Rangitikei is not currently in restriction but is expected to be there in the next few days," Dr Roygard said.
The Whangaehu and Turakina rivers were currently fluctuating around the levels at which irrigation is stopped or reduced. The Manawatu River was also experiencing record low flows, Dr Roygard said.
He said consent holders who have a consent with minimum flow restrictions must reduce or stop water once the rivers reach a certain low level.
"This has come into effect with 83 of 151 consents facing restrictions throughout the region, but it will differ, depending on what their minimum flow restriction is."
Dr Roygard said the entire Horizons region was in serious need of rain.
"Minimum flow restrictions are designed to reduce the impact on river levels in dry conditions, however if there is no rain the rivers will continue to reduce."
Grant Collie, director of the Whanganui Riverboat Centre, said the low level of the Whanganui had caused two sailings of the PS Waimarie to be cancelled in the past week.
Less water in the river meant there was more salt water being pushed upriver during high tides, which was a problem for the 113-year-old paddle steamer.
"Normally we fill up with fresh water for the boiler before we leave the museum and then at Upokongaro we turn around and take on river water, but now it's salt all the way up. It's like we're sailing on a layer of salt, and that means extra work for the guys cleaning out the boiler and extra cost to us to pay them. We're finding there's so much salt taken on in the boiler by the pumps that it just doesn't filter out.
"We've had two sailings cancelled in the last week because of the problem, about 60 passengers booked for each of those."
But the lack of rain did have a positive side to it for the Waimarie. Thanks to the run of fine weather, passenger numbers were higher than expected for the time of year, Mr Collie said.
"The season for tourists has pretty much ended, but [on Sunday] we had 60 people sail with us and on Saturday we had 86. And that's just because of the weather."
Ken Haworth from Whanganui River Adventures said the river was very low but it had not affected his business, which does jet boat and canoe tours.
"We have a couple of lean rapids but it would have to get a lot lower than it is now before it stops our operations."
Mr Haworth said he felt sorry for farmers who were struggling with dry conditions, but from his point of view it had been a brilliant summer.
"Having no rain has been great for us - our numbers have been pretty good."
For more articles from this region, go to Wanganui Chronicle