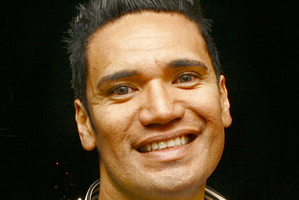 They came in their droves, ordinary Australians hoping to secure a little piece of glamour at a bargain price.
A Brisbane auction room was full to capacity as the trash and treasure of New Zealand man Hohepa "Joel" Morehu-Barlow went under the hammer.
It was standing room only in the stuffy auction room at Antique and Fine Art Auctions yesterday afternoon as nearly 1000 items seized from the former Thames man who passed himself off as a Tahitian prince were wheeled out and bidding began.
Auction house spokesman John D'Agata told the Courier Mail he had expected a lot of interest but did not realise quite how much. Apart from more than 3000 people who had registered to bid on the floor, by Saturday another 1400 people had signed up to bid online and another 1000 had left absentee bids.
Estimates yesterday put the number at 2000 people in the auction room and another 500 outside.
The auction took all afternoon - a Louis Vuitton surfboard, original artworks and a leather thong with leather Mary cross on the back were all put on the block alongside such mundane items as a fridge, power drill and steam mop.
The sale of the goods was expected to raise more than A$300,000 ($373,000) for Queensland Health, the employer Morehu-Barlow is accused of ripping off to the tune of $19 million.
However, the goods fetched more than expected. A Louis Vuitton fur collar, with an estimate of A$100 to A$200 sold for A$650; a Hermes towel, still in its box, estimate A$100 to A$200, went for A$800; and a Louis Vuitton surfboard (A$1200-A$2400) was bought for A$6500.
The most valuable item up for grabs was a new A$95,000 Bang and Olufsen television, which the auctioneers expected to sell for A$15,000 to A$20,000. It went for A$55,000.
A Hermes saddle valued at up to A$10,000 was still to be sold - its estimate was around A$2000.
There was also a bottle of French cognac valued at A$25,000, a massive bottle of Dom Perignon, a A$15,000 Breitling watch and Ping golf clubs.
Several luxury cars and a A$5.65 million property owned by Morehu-Barlow had already been sold.
Authorities froze his assets and seized millions of dollars of property, some from family and friends, in a bid to recover some of the funds he allegedly siphoned off.
Morehu-Barlow, 37, is set to plead guilty in a Brisbane court later this month to allegations of fraud committed while he worked as a manager for Queensland Health between 2007 and 2011.
He was arrested in December 2011.
His charges included two counts of aggravated fraud, two of aggravated forgery, one of aggravated uttering, two of possessing dangerous drugs, one of possessing a relevant substance and one of possessing drug utensils.
- APNZ